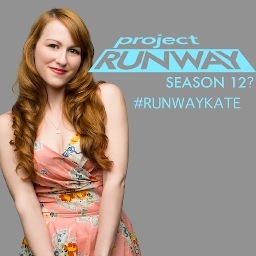 Kate Pankoke may be the breakout star and possible winner of Project Runway Season 12, but only as a result of being brought back from her previous exit in Season 11…and we couldn't be happier!!! Kate almost seems like an entirely different designer this season.  Her design aesthetic has broadened and in every episode we find her designs to be at the top of our list! We wanted to chat with Kate for a few minutes to find out a little bit more about her this season and to find out what's changed!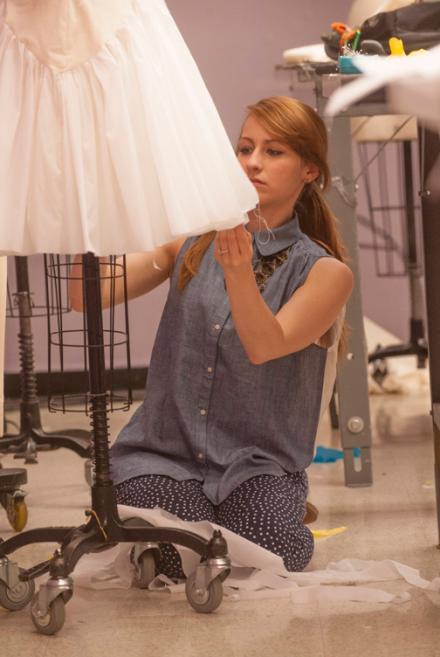 1   Define your design aesthetic in one sentence.  
My design aesthetic is strong, sexy, and beautiful, just like the women who wear it.
2.     What have been your most enjoyable and most difficult challenges so far and why?
My most enjoyable and my most difficult challenge so far was the diamond jewelry challenge.  Whenever the challenge was announced, I panicked because I wasn't expecting the evening wear challenge to come so soon.  For me, the evening wear challenge is the most important, and therefore the most intimidating.  I ended up coming up with a design that I really loved and winning the challenge was the icing on the cake.
3.     Who is your toughest competition?
My toughest competition is Helen because we're so similar, believe it or not.
4.     Who are your three favorite designers of all time?
My three favorite designers are Marchesa, Alberta Ferretti, and Oscar de la Renta.
5.     Give one adjective for each of the following:
Heidi Klum:   vivacious
Zac Posen:    adorable
Nina Garcia:  intimidating
Tim Gunn:     wise
Thanks Kate!!!
Stay tuned for more Project Runway interviews as well as weekly reviews of the show…and don't miss our interview with Project Runway judge Nina Garcia!
Check back in for more daily interviews in our Interview section and style and fashion posts and reviews in our Style section!
Please follow us!
WARNING: We allow 100 words or less of content per interview to be taken, with a link to our original interview, and used without our authorization. Content larger than 100 words or copying our entire interview without our authorization to be used in ANY manner will result in our taking legal action per copyright infringement.