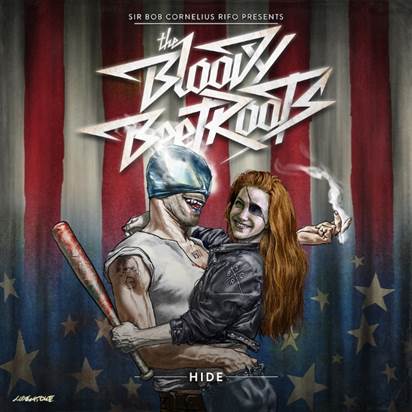 The king of punk rock dance music Sir Bob Cornelius Rifo, better known as The Bloody Beetroots, has announced the track listing and revealed the cover art for the forthcoming new album HIDE out September 17th (Ultra Music). The album features a number of cameos including Brooklyn-based rapper Theophilus London, Grammy-winning guitarist Peter Frampton, founding member of Mötley Crüe, Tommy Lee and Australian singer-songwriter Sam Sparro – full track listing below and watch artist reveal video below. The cover art for HIDE was created by Italian comics illustrator Tanino Liberatore, the mastermind behind the cover art for The Bloody Beetroots last studio album Romborama. And make sure to read our article on their official video for Out of Sight HERE!
Last month, The Bloody Beetroots were featured as MTV's Artist to Watch! As part of the Artist to Watch campaign, The Bloody Beetroots debuted a brand new live video of "Rocksteady" on MTV– Watch the performance, recorded at the Open Air Festival in St. Gallen, Switzerland.

Check back daily for more music reviews and posts in our Music section!
Please follow us: