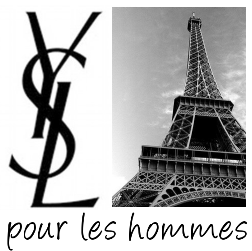 Over the weekend all of our social media feeds – Facebook, Twitter, Instagram – were filled with, primarily, two things: The snow falling in Paris and the overwhelming reception of the the Saint Laurent men's F/W13 collection.
At first, we were a bit surprised with the punk rock/grunge look of the line but the closer we looked, we found specific pieces we loved, making the collection all the more beautiful.  The combination of ripped leather skinny pants and jeans with over sized sweaters really made the whole line feel eclectically cohesive.  At times we felt that Ok so this is what Edward Sissorhands would look like if he finally got his hands and then at times we just wanted to wear everything the model was wearing.  An overall young 90s punk rock grunge super star walked down that runway and WE wanted to rock n' roll with him. Although the show has received some painful criticism for casting especially gaunt, "manorexic" models, we felt they fit perfectly with what designer Hedi Slimane had imagined.  The beautiful darkness of our hidden secrets.  Look closely…because these clothes are our future.
Check back with us daily for fashion and style reviews and our look of the day in our Style section!
Please Follow Us: