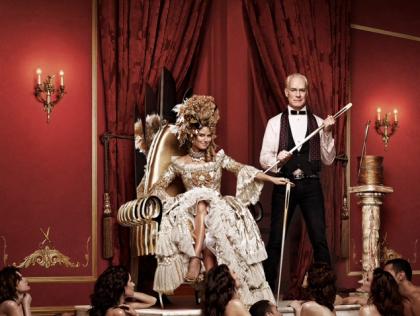 After having just watched the Premiere of Project Runway Season 12, we have to say we are very excited to see the drama unfold! Before the premiere episode even started, we felt like we already knew who we liked and didn't like from the Road to the Runway special which displayed the cast for this season.  Boy were we wrong.
First of all…what you need to know about this season.  The judges this year are Nina Garcia(our FAVE…don't miss our interview with here HERE!), Heidi Klum(our FAVE!) and designer Zac Posen(our FAVE!!! Yeah…we can have as many FAVES as we want! We just love this show and their sarcastic comments!) New this year to the runway is mentor Tim Gunn, who doesn't actually get to judge, but he does get to give criticism and comment to the other judges.  Although he doesn't get to judge, his comment about his giving Miranda an F for not following the challenge almost sent her packing.  Thank God she didn't leave because we really like her and hope she stays for awhile so we can see a little bit more of her.  Tim Gunn also has the opportunity to "rescue" one eliminated contestant and bring them back to the show, which could be interesting since he can only use it one time.  Our bet is he waits til the very end and adds another person to the final show, but we'll see.
Now for our review.  We're not going to get into the extreme details of the challenge, explaining the difficulty of making garments out of parachute or how to work a sewing machine.  Come on folks, these are things you should already know before you even audition to Project Runway.  It's not exactly like you're auditioning for American Idol and anybody might get famous for belting off an amateur rendition of your favorite Foreigner hit.
So here's our breakdown of favorites and those who can walk off the runway right now.  We love Alexandria.  She exudes confidence and beauty and even informs the viewers that she will not fail.  She blatantly says she's going to win Project Runway.  Well alright girl! We thought it was some wayward boasting until she stated that Angela, who she kindly referred to as Peter Pan, and Timothy had no business being on the show.  Incidentally, those were the two people in the bottom two so Alexandria called it out from the beginning.
So we said goodbye to Peter Pan…we mean, Angela, who informed us that we would see her again in fashion week, somewhere.  Hey Angela, we have a suggestion for you.  Come to Indiana and try out Midwest Fashion Week…and don't forget to bring your parachute muumuu poncho dress.  Hideous!
And Timothy...that boy was completely over the top with all of his sustainable art crap.  Don't get us wrong, we're all for saving the environment, which is why we continue to recycle, meaning feel free to send us any wearable gifts(we'll be sure to review them on here!).  The best part of his entrance to the runway was when he stepped out in a pair of glittered, ankle-strapped high heels, which judge Zac Posen adorably punned, like the musical, Kinky Boots!
Others in the bottom were Miranda and Sandro.  Ok Sandro, what the hell was with exposing that poor girl? We were absolutely howling on our couch when Zac Posen made him whip off this jewelry contraption and referred to as a moctapuss…the only reference to the poor girl's exposure! Zac is so funny in the first episode that we're excited to watch him all season long…not to mention that he's sexy as hell!
Bradon won the challenge with an absolutely gorgeous gown, half short with a long train that actually looked like a parachute in the wind, but classy enough that it could be seen at any kind of formal event.  But our favorite of the evening was Sue.  Could this chick be any cooler??? Her hair is cool.  Her clothes, which are all designed by herself, are cool.  Everything about her is cool.  Even her raw honesty when she didn't think she was going to be able to complete her gown.  Now we'll let her off the hook for not knowing how to use that sewing machine…seriously girl? But we really like her.
It's going to be quite a competitive season.  They brought back Kate from Season 11 and although she was an ok designer we're not super stoked.  Her dress was pretty.  Very, very pretty.  Alexander Pope is an over the top designer who has the potential to be at the top.  The stuff he showed during his audition was phenomenal.  Ken, who says he's secretly been competing on Project Runway for years, actually sent down a dress we thought was deserving to be in the top 3.  Self-taught and at several times homeless, the guy has mad technical skills! As a married, gay couple, we immediately fell in love with Jeremy, and even more so when he had his model walk down the runway in a pair of modernized parachute pants.  HELLO judges!!!! Those things could really sell! And Dom made 3 pieces…not just 1 but 3 pieces! Justin, who just happens to be deaf, Kahindo and Karen were all easily forgettable tonight in their designs, so we're hoping they wow us with some incredible stuff before they're gone.  Or as Rachel Reilly from Big Brother said…"Floaters grab a life vest!" And please let's not forget Helen who is not our favorite.  Talk about Negative Nancy.  Cheer up and smile girly! We know you thought you deserved to win but that dress didn't even make sense?
As you can see it's going to be another drama filled season of Project Runway…and we're ready! If you watched the preview after the show for the rest of the season, you're probably excited to watch for just one reason.
Yep, that's right.  Hearing Nina Garcia say "foaming vagina"!
Til next week…stay stylish! And let us know what you thought about the episode in the comments below!
Check out our interview with judge Nina Garcia HERE!
Check back in with us daily for style reviews in our style section!
Follow us for other cool stuff, tweets and entertainment gossip!