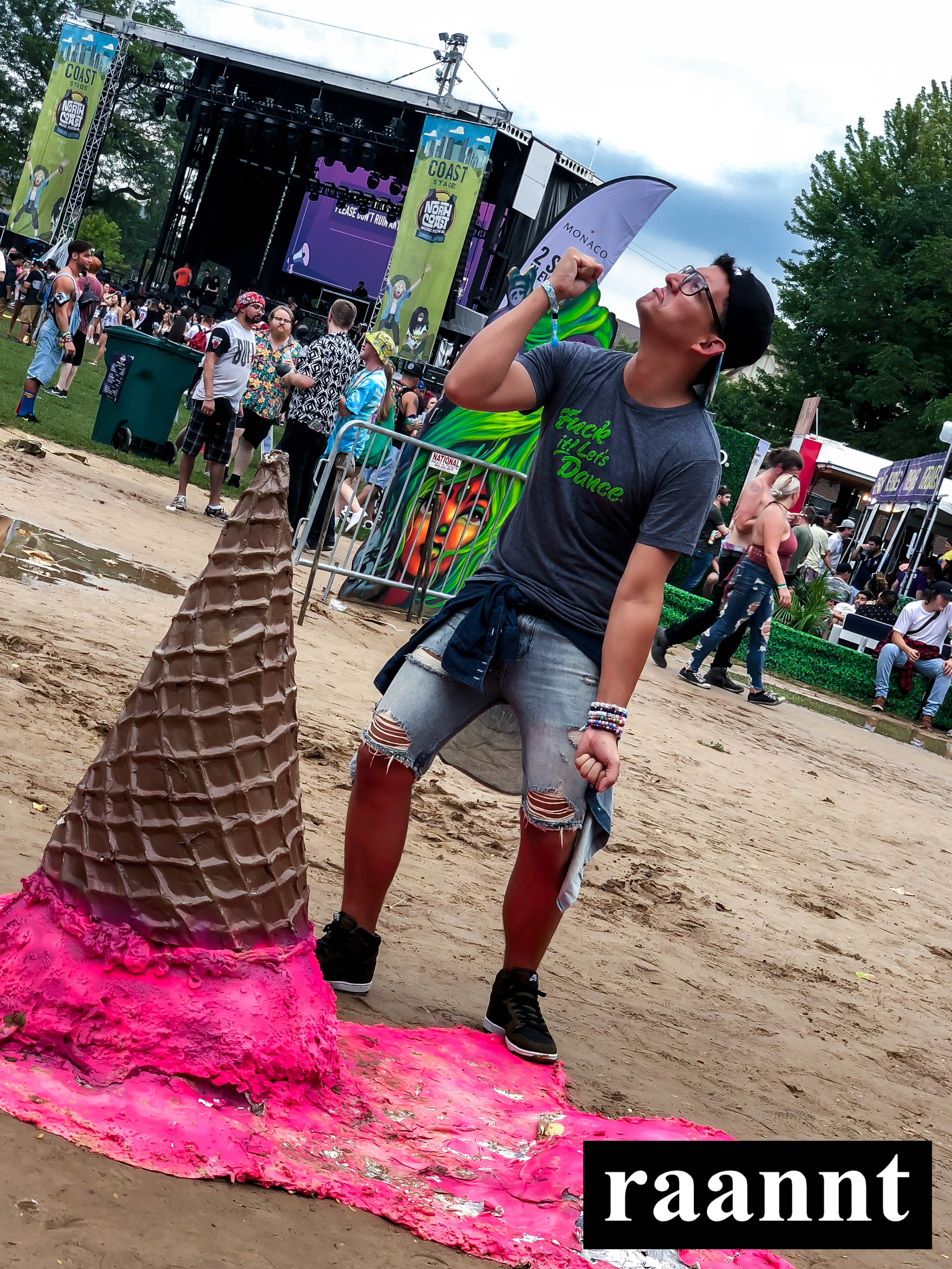 I love summer. I love summer so much, that I save all my complains for cold months. I don't let a single negative word come out of my mouth while the sweet summer heat goldens my skin. That's why North Coast Music Festival is bitter sweet. NCMF means the end of summer, our last chance to let our hair down and rock the grounds of a park somewhere in some city (this case Union Park, Chicago), celebrating our love for music and all the fun summer has brought… But enough with this weather analogy, NCMF is the perfect way to celebrate the closing of yet another great summer while staying positive, got it! 
This year, I raffled off tickets (Thank you thank you North Coast!) tickets to bring along 2 music festival lovers! These lucky gals, joined my photog/dancer/musician friend Kayla as we taught them the culture and life of festival going! It was their first festival ever! We booked our rooms, planned our festival outfits, packed our weekenders and hit the road to Chicago. 
The summer humidity was on blast and the heat was perfect. As we walked through the gates of the festival, we roam each stage and area of the grounds. We checked out the venders, the art, and familiarized ourselves with each state and location. Our first full set was DVSN, then we planned to split as some of wanted to check out Miguel and others wanted see Axwell /\ Ingrosso. That was our plan. That was probably the plan for many. Unfortunately Chicago had other plans in mind. 
As we we ran to our hotel through the streets of Chicago, we kissed all frustrations goodbye and allowed ourselves to be playful in the rain. Last time we enjoyed playing in the rain was when we were kids and North Coast (Mother Nature really but let's go with it) gave us the opportunity to do so again! So thank you NCMF! In our minds we still had 2 full days, so cutting one day short was no problem.
Half way through DVSN's amazing set, the rain went from an annoying mist, to a full blown storm. The winds blew tents over, the water quickly gathered creating puddles elephants wold love to play in, and the vibe went from festivity to run-for-safety. For our, and everyone working/preforming at North Coast, safety, the festival was closed for the night. Big acts Axwell /\ Ingross and Miguel were cancelled.
Saturday was promising! We went to a fun brunch, we fueled our bodies with mimosas and joy and off we went to celebrate day 2! Our plan was to loudly dance in the silent disco, check out the live art, ride the disco shark, check out new artists and dance to the craziness that is DJ Snake. I also did fall in love with The Polish Ambassador & Diplomatic Scandal. I loved everything about them and their music.
Unfortunately, the windy city kept it's nickname proud and gates were shot early due to severe weather warnings. Listen, we're all for safety and making sure our bodies don't over work themselves, so we were OK leaving a little early. Out of our Saturday plan, all we missed was DJ Snake, so it was a successful day.
Sunday was the day we set to really check out new artists and fall in love with new music. After our traditional visit to the infamous bean, which BTWs it's actually called 'Cloud Gate' – 🤦🏽‍♂️ did not know that- we head into our final NCMF day. We really wanted to check out Crywolf. So glad we did! He's whole vibe and set were perfect. We sat on the ground and watch festival goers dance, blow glitter into the air and lounge on huge picnic blankets. We even caught a sweet sweet moment of mom and son sharing their love of music. Jacob Banks blew our minds off! His voice, is amazing! His vibe, is full of life and soul. Everything about his set and performance had us all in awe.
Despite the early closure of Friday and Saturday and having to leave early Sunday, we're happy to report that our North Coast Music Festival 2018 was an absolute success. Will we do it again? 100%. Will I recommend it to others? 100%. Will I try to have another contest for next NCMF? 100%!! Thank you North Coast for keeping us safe and taking good care of us. Thank you for the new music and thank you for the good times. I'm happy to say that I will see you again next year.
Did you go to North Coast? Let me know about your experience! Who was our favorite artist? Favorite stage? Favorite food vendor? I want to know it all!
Click here for more Electronic Dance Music NEWS.