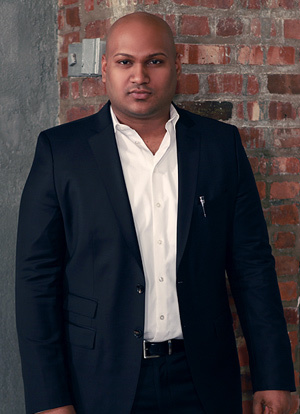 If you watched Project Runway tonight you already know that it was crazy beautiful! First of all, our absolute favorite was Alicia's pink, cocktail dress, which didn't even make it into the top 3??? First of all, she never makes dresses and this one was incredibly flirty! We loved it…she's quickly becoming one of our favorites! Fabio's dress was adorable too and reminded us of the late 90's, Earth rebel yell look! We loved it!
How could Sonji possibly have loved that dress??? That chick looked like a reject on Jersey Shore.  Bad, bad, bad.
Now on to Ven.  Hello??? Ven…are you there? He was so incredibly cruel to his client that he gave a new definition to weight discrimination.  His worst comment was calling her "fashionably challenged". What you mean is FAT…FAT, FAT, FAT!!!! Say it and be honest.  Oh…and while you're calling your client fat, look in a mirror…you're fat too! If you're gonna call a girl out for it, at least call it what it is! We've had our own issues with eating disorders and being overweight and we're not afraid to look it in the mirror and call it out!
In a world of weight discrimination, rampant eating disorders and low self esteem, we're embarrassed for you Ven that you are so absolutely bigoted towards full figured women.  Here…check this one out…Our all time favorite model, who just happens to be plus-sized, Velvet D'Amour walking for Jean-Paul Gaultier!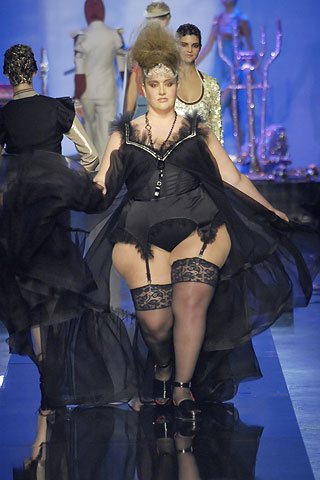 We were very happy to see Fabio when the challenge.  We've noticed people online criticize him for his own style, but same is boring…we like different and Fabio is not afraid to challenge boundaries and be himself! We don't really care that Nathan went home, we're not even sure we remember one thing he made…including his design tonight.
And they should have kicked Ven off for tormenting that poor girl.  Not only did she have to be disgraced by Ven, but she also had to have it aired to millions of people across the world.  And arrogant Ven...oh, he didn't feel he should have been in the last two…imagine that!
Until Next Week…Be Yourself.  Be Fearless.  Be Your Own Unexpected Luxury!
Please Follow Us: