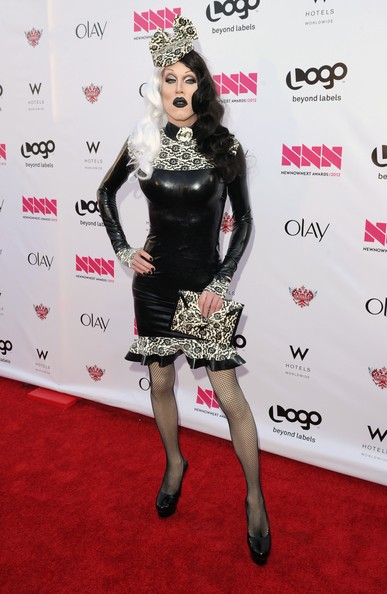 All season, Sharon needles identified herself as the queen who couldn't win a pageant.  Well darling, the time has come to change that title.  Good thing you can now refer to yourself as RuPaul's Next Drag Superstar! Yes maam…tonight at the reunion show for RuPaul's Drag Race Season 4, spookerstar Sharon Needles, was crowned America's Next Drag Superstar! We were literally pounding our fists and feet, ecstatic that our queen took home the crown!
But the night was not left without a few other winners.  All three girls in the top three represented gorgeously and we realized, while watching as they explained what the title would mean to them, that any one of them would represent the title beautifully. And how cool was it that all of their moms were their to support! We've come a long way baby!
Chad Michaels again displayed unbelievable class and style, even confronting Phi Phi about her behaviors, in a mentoring stance.  The reality about Chad Michaels is simple; she is in an entirely different class, one not defined by titles or prestige.  We imagine Chad having his own show in Vegas, representing the gay community with style and possibly even writing his own book.  If Chad could sing…he might be the next RuPaul…but instead, we think he is defining his role as he goes.
Everyone can hate Phi Phi all they want, but she is Phierce! While she may seem a little young and too "goal focused", she's not stupid enough to realize the power of $100,000 or the title as American's Next Drag Superstar.  Should she be hated because she came to win? Maybe some of her behaviors were backhanded but she owned it in the end.  And let's be honest…which one of the girls would have donated the money if they had won?  No…Phi Phi's not much different than some of the other girls, if not smarter.  And although she could work on being kinder, she's had a tough life.  She's a survivor! And in case you didn't mention what she said when asked about her father, we'll recap it for you.  It was more powerful than any anti-hate message we've heard in a long time! "He does watch it and he doesn't like it.  But I love me!" Powerful shit! And she looked gorgeous in the blonde, Marilyn wig! Could she be the Jennifer Hudson of RuPaul's Drag Race??? Only time will tell!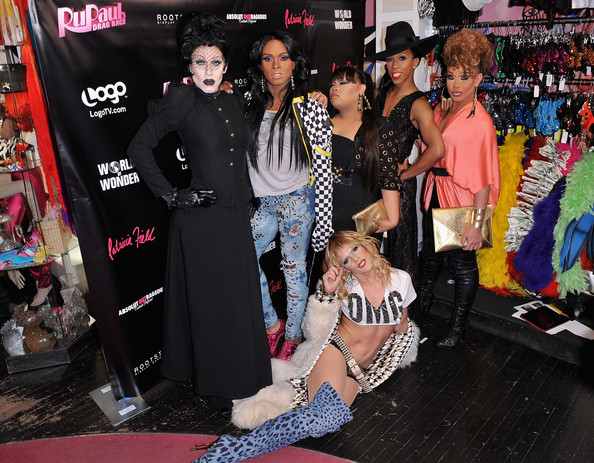 Sharon Needles…OMG!!!! We really, really thought RuPaul was going to give it to Chad.  Imagine how unbelievably excited we were when Sharon's name was announced.  She had her own powerful moment too when she shared that she never thought she would affect so many people, reaching out to the "gay or weird" kids, or anyone who feels different.  And damn! A Ouija board head piece! Sickening! A perfect accessory to go along with her farewell "Happy Halloween everybody!" We love her so! Its kind of hard to deny…she's the Lady Gaga of drag! Well…kind of!
The rest of the show was just as incredible.  RuPaul paid homage to Latrice, who incidentally won the title of Miss Congeniality.  Was anyone surprised? Latrice is like the Humanitarian Ambassador of Drag.  We adore her…not just because of her elegance, but because of her message.  In fact, she dropped so many of these profound messages, we're wondering if she's trying to make it on the list of famous quotes.  "It's alright to fall down.  Get up.  Look Sickening…and make them eat it!"  She went on to pull out a note she received from the mother of a 10 year old girl.  The message was so inspiring, displaying that drag queens are changing the world, that it emphasized the strength of Latrice's message: "Doing Me Works".
And of course there was Willam.  We don't care what anyone says…we love Willam.  He's real, genuine, honest, hard-working, extremely talented(just check out his YouTube videos) and gorgeous.  She has sick style too! We were a little bored that he got kicked off for having his husband come to his hotel room for "conjugal visits".  It almost makes you wonder if there wasn't a reason producers were looking for a reason to get Willam off the show.  RuPaul was so supportive of Willam's future that it made us wonder.  And for once…Willam refused to be flippant and show a gentler side.  Yep…if not Sharon, Willam should have won the show! She even coined the phrase Rupologize, to which RuPaul responded "Consider that word stolen!".  Willam is a genius!
The rest of the show was just as good! Jiggly looked gorgeous, but it made us sad when she cried while confronting Phi Phi, "I smell like a sucka!".  Honey…you've smelled like a sucka all season…and not just because of Phi Phi! Which, by the way, made it even funnier when she kept slurping on that sucker! Did you guys miss that irony? Could someone please get the girl a Sugar Factory Couture Pop ASAP!
We can't wait for the much anticipated RuPaul's Drag Race Season 5!
And while you're waiting, check out our other RuPaul's Drag Race write-ups including interviews with the cast of Season 4, Season 3,  Ongina, Shangela, Tyra or search for any of our RuPaul's Drag Race reviews in the search section!
And Please follow us on Facebook and Twitter so we can review and interview the things you love! Love you guys!
Be Yourself.  Be Fearless.  Be Your Own Unexpected Luxury!
*Image Source: Zimbio