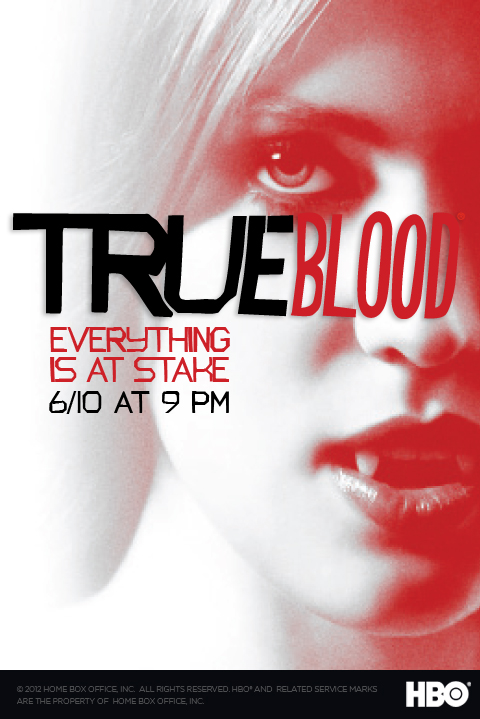 Summer is here and that means one thing!  True Blood is back for another season.  (If you haven't already watched tonight's episode you might want to watch it and then read this review.) So…what did you think of tonight's season premiere?  Does it seem to you that True Blood is getting more and more depressing each episode.  Don't get us wrong, we loved tonight's episode, if only to be back in Bon Temps again, but it seemed like every character had a black cloud having over their head…even Jason! We kind of miss the old days when everything wasn't so serious and we could laugh or even get somewhat excited during an episode.  That being said, True Blood is still true to its ever changing story line and creative inventiveness that has made it one of the most incredible shows in television history. Tonight was no different.
After watching tonight's episode, as well as seeing the trailer for the entire season, we're excited that Jessica is going to be given a more prominent role.  She is the hottest thing on the show and given a little bit more power, she could take over the world…literally.  We loved hearing her say, "that pretty much makes me the Queen"!…All hail bitches!
How can you not love Pam? Being able to see her get emotionally hurt last season even made her more alluring because now we know her ruthlessness is a choice…to some degree.  But, she did lower herself, literally, into the ground and sleep with Tara to turn her into a vampire after Debbie shot her in the head.  (And isn't it funny that everyone is concerned about the remains of Marcus, but no one in her pack, including Alcide is worried about Debbie's whereabouts? Crazy bitch…
Some of our favorite moments from tonight's episode included: Jessica singing "Cherry Bomb" by the Runaways for Karaoke, Pastor Newlin coming out as a proud American gay vampire during Pride month, Eric and his "sister" having sex in the storage container (Do vampires cum blood?), Lafayette's new shaved head, and of course…Tara being turned, hopefully, into a vampire.  If that happens…she's going to be one pissed off vampire!
If you watch the season trailer, you will see that Christopher Meloni(remember him from the good old days when he was on HBO's Oz…yeah, that one!) is being introduced as the 500 year old vampire authority who apparently hopes for peace between the factions.  We'll obviously have to wait around to see what happens since the only scene they showed was an aggressively sexual scene between he and Jessica where he pulled violently at her hair.
Needless to say, this is just the beginning.  Maybe the show is going to heat up so much over this much anticipated season, that they chose to start of slow and allow the show to simmer for awhile.  Either way, we hope they bring back the fairies, give Lafayette some crazy powers, let Sookie and Alcide finally get it on and show a little more nudity this season! We'd even like to see a True Blood wedding…just saying!
Til next week…fangs up!
Check out our interview with Charlaine Harris who wrote the Sookie Stackhouse novels which inspired True Blood HERE!
Follow us on Twitter HERE and like our Facebook Fan Page HERE to keep up with all of our interviews and reviews!
Be Yourself.  Be Fearless.  Be Your Own unexpected Luxury!