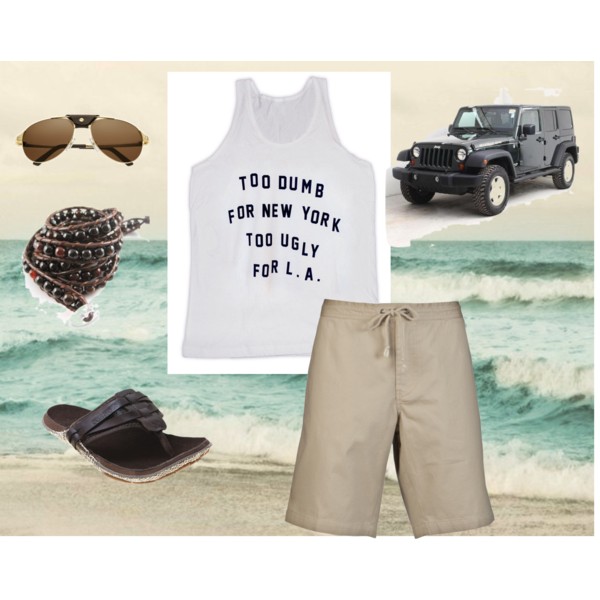 Hidden beach.  Soft sand.  Warm water.  Crashing waves.  Driving up you see hundreds of white candles stuck in the sand flickering like dancing fireflies on the beach surrounding a huge bonfire.  From the message on your voice mail, you had imagined tons of people, laughing, dancing, drinking…but it's just him, sitting there roasting a marshmallow on the end of a twisted stick.  As you walk up he smiles, takes a swig from a bottle of warm, red wine and hands it to you.  You can feel the wet sand on the glass from where he kept the bottle dug into the ground between his legs. You take a swig from the bottle and sit down next to him.  The fire cracks, spitting embers into the dark night.  He kisses your neck and you can smell the sweet, red wine on his breath. Turning, you watch the reflection of the fire in his eyes.  He smiles again and you realize bonfires for two are much, much better than a crowded beach party.
Out of Our Closet Today 6-11-12: Bonfires on the Beach
Shorts: Analog Clothing Rip Short/farfetch.com $62
Tank: Dumb and Ugly Tank Top/etsy.com(burgerandfriends) $24
Sandals: Cushe Manuka Wrap/Infinity Shoes $65
Bracelets: Genuine Onyx and Agate Gemstone Bead Long Brown Leather Wrap Bracelet/Overstock Jeweler $14.99
Sunglasses: Santos Dumont Sunglasses/Cartier $810
Car: 4 Door Jeep Wrangler/Jeep $25,545
Be Yourself.  Be Fearless.  Be Your Own Unexpected Luxury.