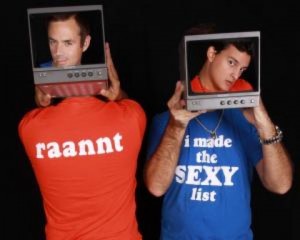 As lovers of true luxury, we are always fascinated by the finest watch, the finest suit…even the finest tee shirt.  Yes, there is no greater luxury than jumping out of bed to go get coffee on a Sunday morning and grabbing a pair of jeans from the night before and throwing on your favorite tee.  For most of us, we would be more upset if a tee shirt we got while scuba diving in Grand Cayman was torn than if we lost our most expensive tie.  True tee shirt lovers would look at the torn fabric as character and wear it proudly.
In our ever devoted mission of of a life of true luxury, we are going to host The Art of TEE…our daily pick in the search for great tee shirts.  We will pick these from random stores, online sites, stuff fans send us and even our own closets.
We thought it was only fitting our first tee shirt be our very own raannt I Made The Sexy List tee!(Yes folks, these little buddies are for sale!).
We look forward to surprising you with our picks of the day.  If you have a tee-shirt you'd like to send us, contact us on our contact page!
Be Yourself. Be Fearless.  Be Your Own Unexpected Luxury!