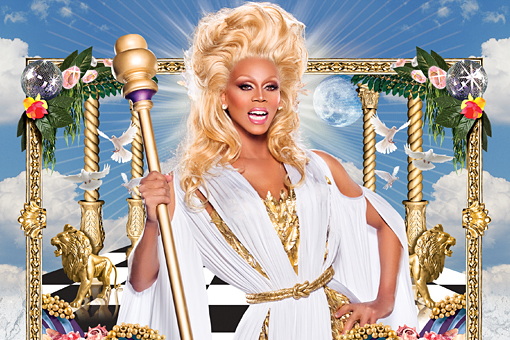 RuPaul's Drag Race All Stars hasn't even crowned a queen yet and already LOGO TV has released the cast of RuPaul's Drag Race Season 5 which is scheduled to premier on January 28th, 2013.  And…Alaska, Sharon Needles' boyfriend, finally made it on the show after several, several…several attempts.  We're sure she's a huge contender being that she seems to come from the same creative gene pool as Sharon…obviously one of our all time faves.
Also up for consideration are several queens who have pageant pasts, such as Roxxxy Andrews(Miss Continental Plus 2010/Miss West Virginia Continental 2012, Coco Montrese(Miss Gay America 2010) and Alyssa Edwards(Miss Gay USofA 2006/Miss Gay America 2010(Dethroned)/All American Goddess 2010(Dethroned).  Already, the drag pageant boards are lighting up with conversations and threads of anti-Alyssa debauchery stating she doesn't have the professionalism to be on RuPaul's drag race, especially since she's been dethroned twice from national titles. To make it even more interesting, fellow Ru contestant Coco Montrese, her 1st alternate to Miss Gay America 2010, assumed Alyssa's role after she was dethroned.  Makes for some very interesting subtext to the show.
Also…Detox was one of the queens in the Chow Down(at Chick fil-A) Video made famous by Willam Belli seen HERE! The video is absolutely hilarious and went viral quickly! All of the other girls look amazing too, and maybe we'll try to dig up some gossip and background stories on the others to share here later in the week!
Stay tuned as we'll be doing weekly reviews, interviews with the contestants and up to the moment gossip before the show premieres…and after.
Ohhhh…and LOGO…could you please put Danny Noriega aka Adore Delano on the show so she can shut the fuck up!!!! Isn't one reality show enough Danny??? Actually, we're totally serious.  We're huge Danny/Adore fans and think she would be an amazing addition to the show.  Just saying…Season 6 maybe???
Check out pictures of all of the Season 5 contestants below and let us know what you think…we love getting the gossip threads started on our page! In order: Alaska, Alyssa Edwards, Coco Montrese, Detox, Honey Mahogany, Ivy Winters, Jinkx Monsoon, Lineysha Sparx, Monica Beverly Hillz, Penny Tration, Roxxxy Andrews, Serena Chacha and Vivienne Pinay.
And check out interviews with RuPaul's Drag Race All Star Cast as well as our interviews with Sharon Needles, Phi Phi O'hara, Ongina, Tyra Sanchez, Shangela and many more all in our Interview section!
Click this link to see LOGO TV's trailer of the show and footage of the cast!
Be Yourself.  Be Fearless.  Be Your Own Unexpected Luxury!
And follow us everywhere for minute by minute gossip and our daily antics!