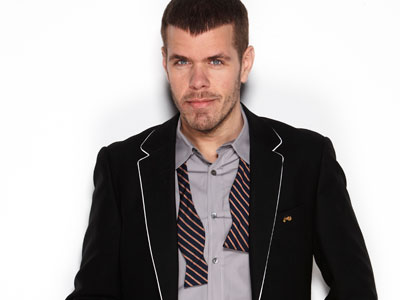 You either love him or hate him.  But either way, he is the Oprah of pop culture.  If Oprah has the ability to pick future politicians…Perez Hilton has the intense ability to put his thumbprint on the next big icon of pop culture.  In the past, he's been an easy target for counter attacks due to his varying "stylistic" looks, which are questionable, at best, of having any style at all.
But in the last year, those following Perez, via his blog or Twitter, have noticed a focus on gym time and an incredible dedication to improving his physical appearance.  For those that saw the premiere of his reinvented look at LOGO TV's New Next Now Awards, Perez looked like some kind of over-tanned Ken doll, apparently making a statement…not just displaying fashion.  Well…we would have much rather that statement have been made in a white v-neck tee and a pair of rustic jeans and chucks.  It's undeniable that Perez has questionable style and his outfit by The Blonds nods in the same direction.  Nonetheless, a little less tan…and Perez looks absolutely incredible. Handsome.  Masculine.  Happy.
More important than the outfit was the statement, found on his website, "We've worked soooo hard to get to where we are today, and we are feeling soooooooo good these days! YOU can do it too!  You can! Do it! Do it! Do it!!!!"
In a world saturated by obesity and unhealthy body issues, Perez is an example of healthy living, contributing positivity to pop culture…probably his best achievement yet.  We're impressed Perez! And thank you…for encouraging us by being humble enough to admit your struggle…yet confident enough to show off your success.  That…is truly sexy!
We thought we'd take a look at Perez over the years and visit his many looks.  It's obvious that today…he wears happy very well!
By the way…your hair looks the best its every looked!
Be Yourself.  Be Unafraid. Be Your Own Unexpected Luxury!