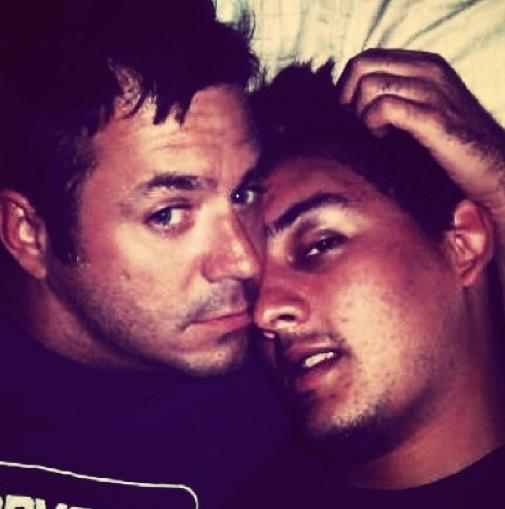 We took this picture four years ago.  At that time, we were just a normal, gay couple going out on dates and getting to know one another.  That following summer, we started a blog.  The purpose of the blog was to review local stuff that was going on in our hometown of Indianapolis and to try to bring more attention on local events.  We never imagined that raannt would turn into what it is today and the opportunities it has allowed us to enjoy.  Three years later we are a website dedicated to reviewing music, style and pop culture.  We have been able to interview tons of interesting celebrities, meet new friends and go to exciting places and events, all the while staying true to ourselves and being ourselves. It is due to our readers and the people who have supported us along the way that we have continued to grow, and we hope, will continue to grow to be able to offer cool and interesting content daily as well as the same amazing opportunities to our readers.
Recently, we've had to become a lot more businessy because as we've grown the need for a realistic business model and all that goes with that has become evident.  This last week we had our annual raannt meeting; three grueling hours reviewing past content, throwing out things that don't work and taking the suggestions of our readers.  One thing became extremely evident to us during the meeting…we needed to return to a strict goal of interviewing and reviewing only those things that we love, not specifically things that were trending or relevant.  Who gives a fuck if we love a song that was popular three years ago…we're posting it.  Who cares if no one has heard of a designer or a writer that we love…we're posting it.  We also want to get back to being more personally, rather than politically, relevant in terms of issues like bullying, same sex marriage and lookism in the media.  Being ourselves, fearlessly, has been what has worked for us all along.
Since the beginning, we have not been popular with certain groups.  They have criticized and ignored us, calling us arrogant and cocky.  We've actually lost a few friends due to raannt.  Fortunately, what we've lost we've made up with tons of followers, fans and friends.  Nothing compares to a 50 year old man coming out or a teenager afraid to come out due to bullying, thanking us via an email, Tweet or Facebook message for being ourselves and encouraging them to do the same.  It happens daily and we are forever grateful for being part of their journey.  So…fuck the rest of the people.  As our friend Danny recently told us, "they hate you cuz they ain't you!".
As far as raannt, this is what you can expect.  We will be focusing only on music reviews, style posts, television/film reviews, celebrity interviews, SEXY lists and a new, weekend photo gallery.  We've had tons of readers suggest and ask us to write a daily blog, talking about our personal style of the day or whatever is going on in our lives and this too will begin…with this post. And yes…the YouTube channel will continue.   If it ain't broke, don't fix it.
The reality is that we are and always have been just a regular couple.  Gay or straight, interviewers or not, we're no different than anyone else.  What is different than many is that we took something we loved, put action into our dreams and made it happen! You can do the same thing.  That's what raannt is all about.  Being yourself.  Being fearless.  Being your own unexpected luxury!
So…thank you to everyone who has been so encouraging and those who haven't.  You've all been a part of what's gotten us to this place so far…and it's only the beginning.  We have so many exciting events and interviews planned for the next couple of months that we are currently planning on taking raannt to a whole new level.  We are currently looking for guest bloggers for style, television, pop culture and music posts.  If you are interested, please contact us at info@raannt.com
Here's to the future! We hope you'll enjoy it with us and allow us to serve as a model that anything is possible!
Much love,
Peter and Alex
The Boys of Raannt
Please Follow Us: