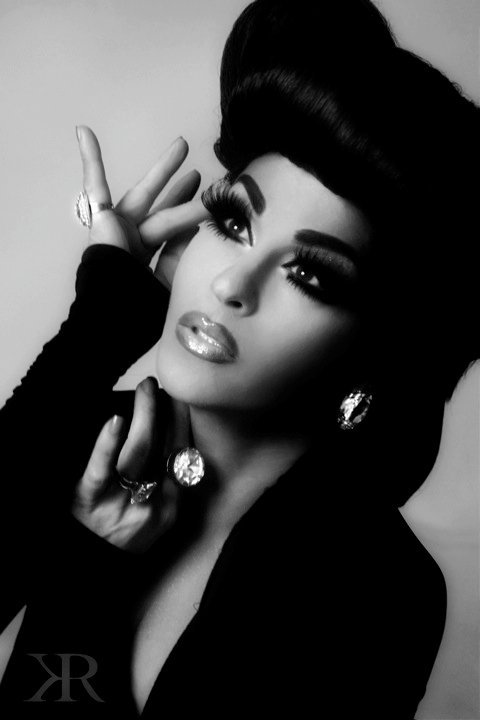 With the passing of some of all time favorite performers this year, Erica Andrews and Whitney Paige, as well as many others, we thought it would be interesting to pay tribute to the art of female impersonation by reviewing and doing tribute pieces to several National pageants.  We've watched drag from afar for quite some time, attending national pageants, interviewing all of the contestants of RuPaul's Drag Race, going to our favorite bars and watching our favorite queens perform, but we've only been observers. This year, we wanted to give back to world of drag by highlighting the beauty, sisterhood and true entertainment that comes from within…one of the greatest art forms of our time.  In the following week leading up to the National Entertainer of the Year Pageant, we will be spotlighting some of our favorite former winners by posting our interviews with them.  Please enjoy our interview with Erica Andrews from several years ago HERE!
Here are your contestants for National Entertainer of the Year 2013! (We borrowed the list from Carrie Fairfield…drag expert extraordinaire! Make sure to visit her amazing web site with everything drag…including forums HERE!)
Deborah K
Kandi Hustle
Brooke Lynn Hytes
Nevaeh Malone Khol
Jadein Black
Dalylaha Desmon
Tiffany T McCray
Addison Taylor
D'Angela DeAngela Show Shannon Detroit
Raquell Lord
Summer Knight
Alana Steele….Gooooooo Indiana!

Victoria Fox
Vanity Montzer
Karmen De LaRouge
Mercedes Black
Kelly Mathew
Fantasya Dior
Vanity Love
Reanna ruthless
Tajma Stetson
Madison Elise
Sapphire Milan
Roxanna Hardplace
Eureka O'Hare
Savannah Lynn
Nikki Chen
Morgaine Nicole
Ocean Armonite
Paulina Ramera
Halle O'Day
Krisstina Glory Fatale
Dolce Monique
Alisha Paris
Tori Sass
Victoria Bacon
Gogol V Berlynn
Good luck…and we look forward to seeing you all! Oh…you didn't think we were going to actually miss the pageant this year, did you?  And right after, we're gearing up for a super exciting piece on Miss Continental!
See you this weekend! And stay tuned all week for fun EOY surprises! Make sure to come up and say hi and introduce yourselves! In the meantime, check out our interviews with all of the RuPaul's Drag Race winners in our Interview section, as well as stars of the movie Trantasia, Gregory Gorgeous and JohnnyBoy from YouTube and Jackie Beat…all in our interview section!
Please follow us for pageant news and gossip!
*Photo courtesy of Erica Andrews from our previous interview.