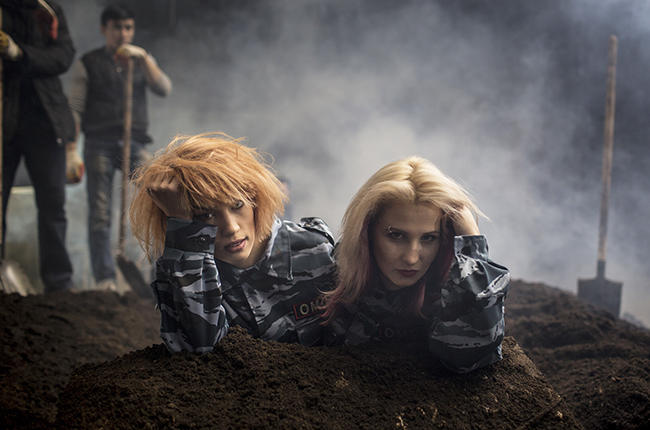 Just a little over 6 hours ago, the Russian band Pussy Riot released the official video for the first ever English song I Can't Breathe, and already it's trending on social media. So why is this song so important? The statement under the video states: "Pussy Riot's first song in English is dedicated to Eric Garner and the words he repeated eleven times before his death. This song is for Eric and for all those from Russia to America and around the globe who suffer from state terror – killed, choked, perished because of war and state sponsored violence of all kinds – for political prisoners and those on the streets fighting for change. We stand in solidarity.
Pussy Riot's Masha and Nadya are being buried alive in the Russian riot police uniforms that are worn during the violent clashes of police and the protesters fighting for change in Russia. A pack of "Russian Spring" brand cigarettes is on the ground at the beginning. "Russian Spring" is a term used by those who are in love with Russia's aggressive militant actions in Ukraine, and the cigarettes are a real thing."
Check out the video below!
What do you think? Leave your comments below!