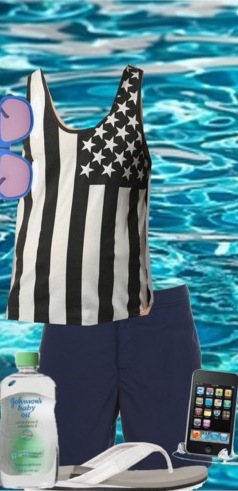 All of your friends are working but you have the day off and it's 100 degrees and perfectly sunny.  You head to the pool.  After getting your lounge chair set up, you dive in and let the bath temperature water flow over you.  You love summer.  After you swim, you get out and grease up your body the old fashioned, dangerous way; baby oil.  You plug in your headphones and start your playlist for summer anthems.  After an hour, you've had enough of the sun and decide a nap inside is a better way to spend a 100 degree day.  You wake up hours later. The sun is gone and the moon has replaced it's midsummer glow.  The smell of baby oil radiates the room as the heat from the burn on your skin radiates with heat.  You take a quick shower, throw on a tank and shorts and head out to meet your friends for dinner.  You smile as you walk out…if only every day felt like summer.
Out of the Closet Today 7-18-12: Pool Party for One
Tank: Outcast Americana Tank Top/Urban Outfitters $28
Shorts: ORLEBAR BROWN 'Bulldog' Swim Shorts/farfetch.com $195
Sandals: Hugo by Hugo Boss Mens White Thaco Leather Thong Sandals/psyche.co.uk $74
Sunglasses: KSUBI Blue Tejat Sunglasses/ssense.com $220
Oil: Johnsons Baby Oil Aloe Vera and Vitamin E 20oz/Target $3.84
Be Yourself.  Be Fearless.  Be Your Own Unexpected Luxury.
Check out our other daily Out of Our Closet Looks from the past and check in with us daily for new looks!
Follow Us: