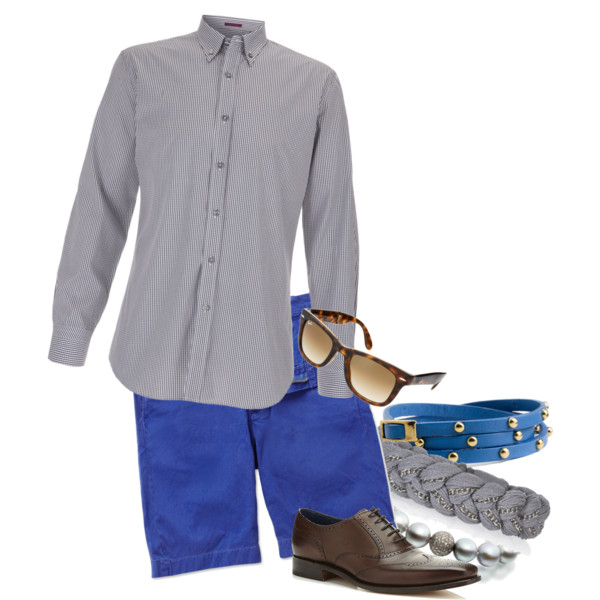 It's 11:30 am and your phone is ringing, waking you from sleep.  You pick up the phone while stretching and begin smiling…it's him! After answering the call, you hear him asking you to a spontaneous lunch date…at 12! 30 minutes…not much time to look sexy enough to make this lunch date last all the way into dinner.  You walk into your closet and begin grabbing stuff here and there…
Out of Our Closet Today 5-9-12: Sexy Lunch Date
Shorts:$65 J.Crew Stanton Slim Fit Cotton Short
Cheaper Alternative: $25 Old Navy Belted Plain Front Twill Shorts
Shirt: $235 Paul Smith London Grey Gingham Button Down Shirt/Liberty London
Cheaper Alternative: $64.50 J.Crew Secret Wash Shirt in Faded Gingham
Shoes: $290 BARKER Johnny Oxford Shoe/Harrods
Cheaper Alternative: $69.95 Giorgio Brutini Medallion Cap Toe Oxford/DSW
Bracelets: $930 Astley Clarke Juliette Pearl Bracelet/Astley Clarke

$68 Roarke Extender Pomp Bracelet/Charm and Chain
$9.97 Cara Accessories Leather and Metal Stud Bracelet/Nordstrom
Cheaper Alternative: Von Maur, American Eagle or any local or vintage jewelry store.  As men, we typically look for bracelets in women's stores and usually find unique stuff!
Sunglasses: $200 Ray-Ban Folding Wayfarer Sunglasses/Ray-Ban
Cheaper Alternative: $5 Any gas station.
Style Tips: $70 shorts and $200 shirts can become expensive.  Utilize consignment shops or develop a keen eye as a clearance shopper, realizing that in one month, what is actually $200 will probably be reduced by half.  Most of us don't have millions of dollars sitting in the bank…but that doesn't mean we can't look that way.  Spend money on items that can go the distance or will be able to transfer to many different looks.  A good pair of Oxfords for less than $80 is probably well worth the money, especially since they look better with age anyway.  A brand new pair of Ray-Ban Wayfarers can run as low as $100 or $125, but will last forever and are timeless. Make sure you're buying staple items that become the foundation for your closet and then spend the rest on items which will help you develop your own individual style!
Be Yourself.  Be Fearless.  Be Your Own Unexpected Luxury!
Check out all of our other looks in our Out of Our Closet section!