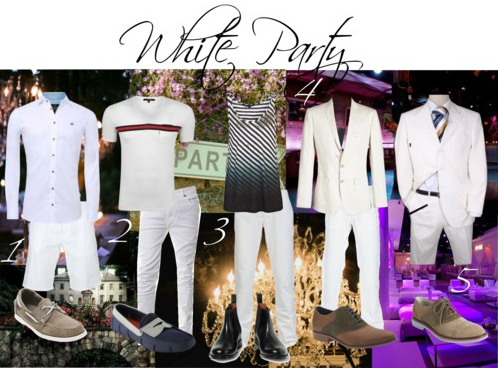 The time to pull out our whitest whites has come.  The infamous end of summer White Party has gladly reached it's time.  Invitations have been sent through the mail and into people's inboxes.  Summer romances are dwindling or turning into Autumn love affairs, meaning you either have a date for the party or you're flying solo hoping for one last summer fling! Either way, you still need the perfect outfit to set you above the rest.
Every year we look forward to this special gathering; everyone celebrating the end of summer, chatting about our experiences and world excursions to the backdrop of our favorite songs played in an atmosphere set for pure, exquisite perfection.  Here are some of our suggestions for a white hot look that is sure to impress!
1. White fitted shorts and a cool white button down with boat shoes.  The Hamptons look is perfect for an outside party or day party.
2. White denim, a polo shirt, and colorful loafers.  This preppy attire translates from day to night and comfortably while still being super stylish.  Just don't get anything on your pants.
3. Black and White stripe tank, white dress pants, and black boots.  It's ok to break the rules…just do it in a respectable and fashionable way. This fashion forward summer look is perfect to catch the room's attention.
4. Classic white suit and brown wingtip oxfords – enough said.
5. Shorts suit? YEP! Dress up and play with the heat.  Wearing dress shorts with a blazer has been around for years (Remember when our moms used to dress us up?) Go back in time and play with what you've got.  This look is playful and flirty.
Summer it's at its' end and we want to make the best of it – so go out there, get yourself invited to a White Party (if you haven't been already) and make stories that will make your mom blush. And if you haven't been invited, throw your own.  Nothing says Autumn better than accessorizing with some control in your life!
Be Yourself.  Be Fearless.  Be Your Own Unexpected Luxury!
Check out all of our style tips and daily looks in our Style section!
Please Follow Us: