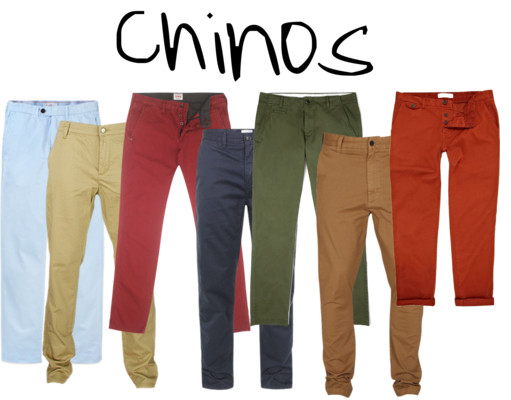 Summer is coming to an end and that means we can finally start enjoying wearing pants again.  Not forgetting that chinos will never go out of style, we have to keep in mind that trends will alter how we wear them and what colors look best.  Chinos now come in many different colors, fits, and are worn in many different ways.  The great thing about them is that they're great for any occasion.  Throw on a fitted button down shirt and oxford shoes and you'll be ready for a night out with friends.   Grab your favorite hoodie and a pair of sneakers and you're set for a day at the library.  Play with colors and fits.   There's nothing you can do to make chinos look awful!
Some of our favorite places for Chinos include: Gap, H&M and Pac Sun.
Be Yourself.   Be Fearless.  Be Your Own Unexpected Luxury!
Check out all of our daily style posts and tips in our Style section.
Please Follow Us: