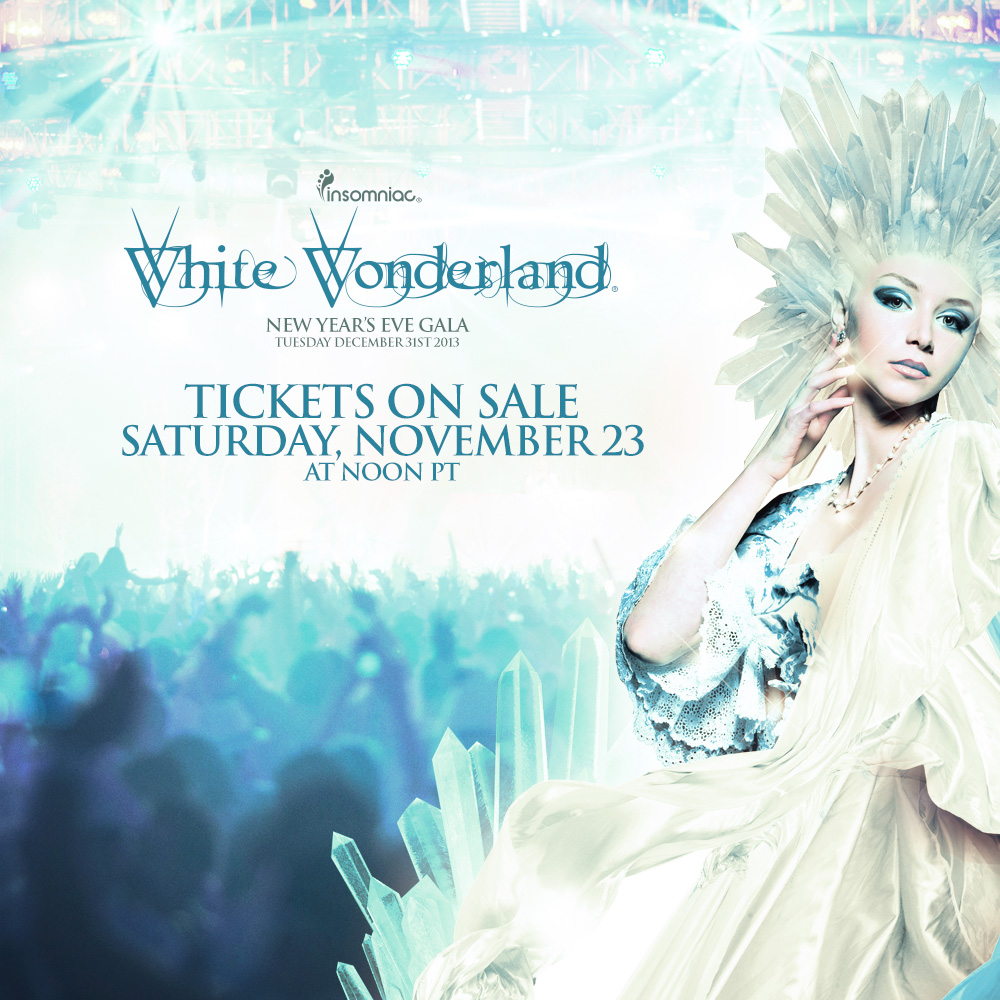 Tickets for the 21+ event go on sale Saturday, Nov. 23, at Noon Pacific Time
Insomniac invites fans to celebrate the beginning of a brand new year filled with endless possibilities at the third annual White Wonderland on New Year's Eve at the Anaheim Convention Center. The 21 and older event features an all-white dress code for attendees, complimenting the all-white décor and production elements that will transform the venue into a magical playground as fans count down to 2014.
"I always look forward to White Wonderland as it gives us a chance to look back at the wonderful memories we made during 2013 and celebrate new possibilities and surprises to come in the new year," said Pasquale Rotella, CEO and founder of Insomniac. "The all-white costumes our fans put together are always so creative and really add to the atmosphere of the event."
White Wonderland will immerse fans into an intimate wonderland environment, featuring whimsical, white costumed theatrical performers and dancers as well as state-of-the-art, winter inspired stage production and lighting design. Six talented artists will create the soundtrack for the countdown to the New Year.
This year's lineup includes:
ATB
Congorock
Cosmic Gate
Dash Berlin
Laidback Luke
Steve Angello
Added to the lineup will be one up-and-coming DJ chosen from submissions to the Discovery Project competition, presented by Insomniac and Moto X. The Discovery Project is an ongoing competition series that aims to give emerging artists the opportunity to share their music with a larger audience and perform at Insomniac's festivals and clubs shows. The winner will perform at White Wonderland and have a one-on-one mentoring session with world-renowned artist Laidback Luke in addition to other prizes.
Interested artists can visit www.discoveryproject.com to enter the competition as well as view competition rules and more Discovery Project information.
White Wonderland is a 21 and older event. General admission tickets are priced at $99, and VIP tickets are available starting at $175, before service fees. VIP amenities include a separate entrance to the festival for expedited access, exclusive VIP deck with a full cash bar overlooking the stage, and a souvenir laminate and lanyard.
Tickets are on sale now at www.whitewonderland.com.
Check back for more daily Music reviews and posts in our Music section!
Please follow us!