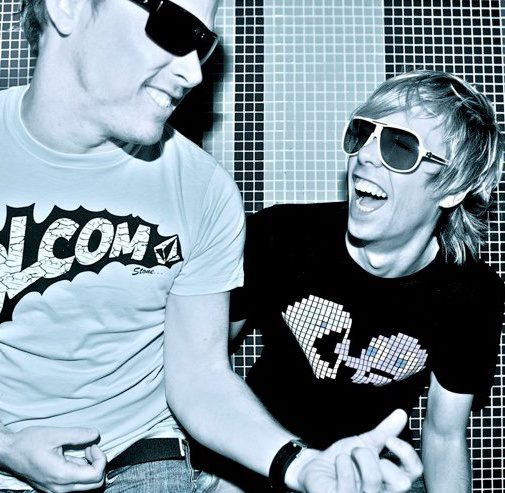 South Africa is filled with breath taking landscape; it's rich in human flavor, culture diversity, history, and every changing art.  It's no surprise that this musical duo came into the Electronic music realm with a unique, strong, colorful, and powerful sense of sound.  Dom Peters and David Poole have pretty much created a new genre within Electronic music.  They've added live classical jazz instruments, loungy vocals, and over all sensual feeling that comes with their music.  We had the pleasure to interview this South African music gem and are happy to share what we've learned from them.  Check out what these cool cats… er, goldfish… have to say!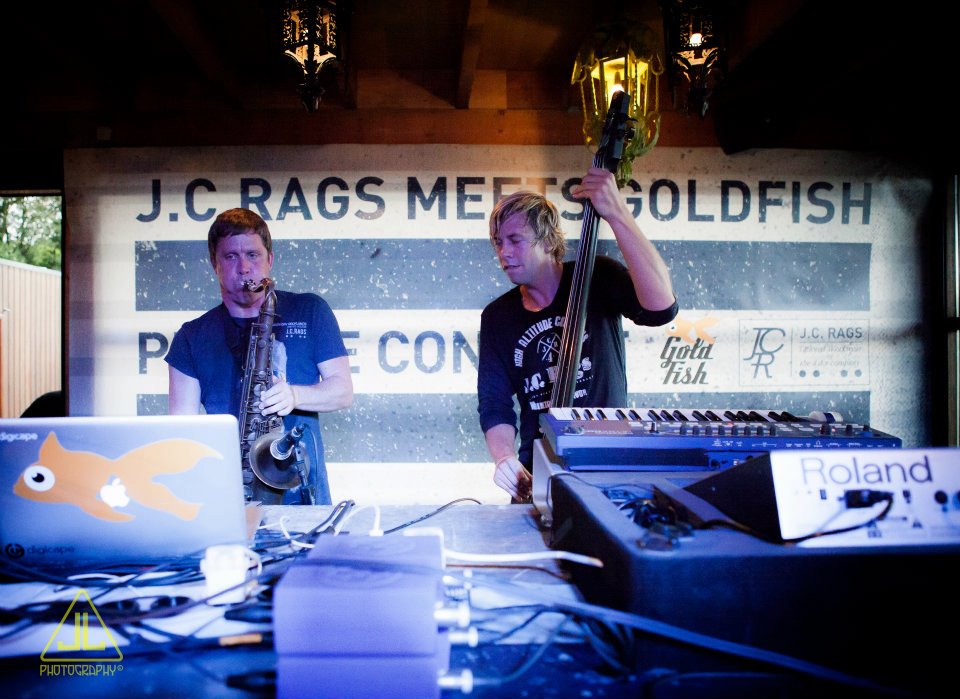 1. Who is Goldfish in 5 words or less.
Electronic music that has soul.
2. How would you describe your sound?
Warm, electronic, analogue, uplifting, made in the sun.
3. How did you guys meet?
Dave and I met whilst studying music at University. We were doing degrees in Jazz so we were studying Miles Davis and Coltrane, which is kind of like doing your broadway before moving onto blockbusters. It's a great training and gives you a broader insight into music. We actually got started playing in a Jazz Band together to pay our tuition, and discovered that we both had a similar love for artists like Kruder & Dorfmeister, St Germain, Air, and Zero 7 amongst others. We were always chatting about live electronica side of things and how not many artists (at the time) was really doing it. We decided to get together in Dave's dorm and make a track which we gave to a friend of ours…he came back a couple days later saying he'd played it at a house party and everyone had gone mental, so we thought maybe we should make some more. We did our first gig and just got this massive response which we'd never had to anything else we'd ever done musically…and it's been nuts ever since.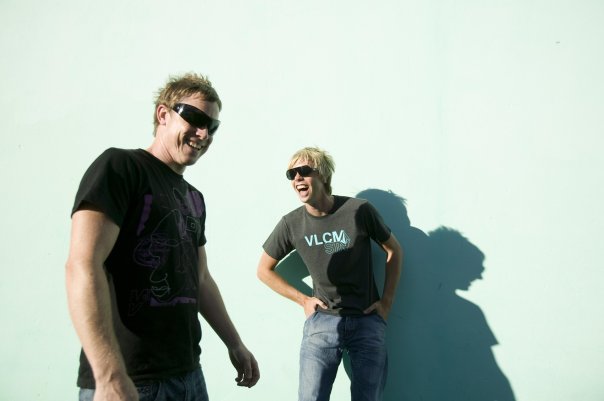 4. How has being from South Africa set you apart from others in the music industry?
Being from Cape Town has definitely shaped our sound. You just can't help it. Cape Town is one of the worlds best kept secrets when it comes to Cities and it's just a gorgeous place to live. The environment and beauty lends itself to creatives and for people who make aesthetics and beautiful surroundings are a priority. This is Africa and we are exposed to sounds, people and situations in a combination that you will find in no other place in the world. We wouldn't sound the way we do if we were from anywhere else. When it comes to dance music it's important to embrace your surroundings in your sound as there is nothing worse than a copycat trying to sound like what is in the Beatport Top 10. That is what makes you unique and not a wannabe.
5. What's the one thing you guys do in South Africa you can't do anywhere else in the world?
When we're actually home, sleep in our own beds. That's our biggest luxury in the world.
6. Your music videos are always incredibly unique, fun to watch, and completely one of a kind.  Where do you guys pull inspiration from to create these videos?
We have a long and close relationship with animator and director Mike Scott. He is just the most imaginative and creative guy we have ever met and he's not afraid to incorporate any crazy ideas we might have into our videos. That's the best thing about animation, the normal rules do not apply and you can feature anyone or do anything. We haven't been sued yet! The downside is that it is incredibly labour intensive, expensive and they take massive amounts of man hours to make, But the reward is worth it when you see another music video of bikini chicks by the pool in Miami or a band/DJ miming along to their track. Save us.
7.  Since you've been touring, what has been your favorite city and why?
Tough one. New York is amazing, it's a city that doesn't give up it's best moments until you've put in a bit of effort. But I think we'd have to say Amsterdam. Aside from the massive support we have there, the people are just so cool. Maybe it's because they haven't had a baby sitter telling them what to do their whole lives when it comes to 'drugs or adult entertainment' so they are just urbane, chilled and educated people. They can speak minimum three languages fluently and yet weed is legal. Go figure.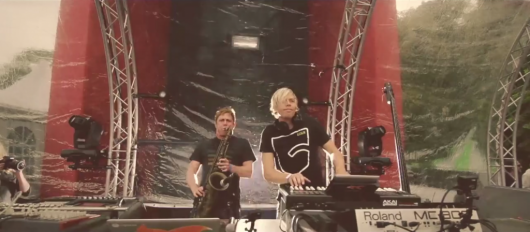 8. What are the top 3 things you guys must have in your green room before and/or after a show?
Mood lighting, some aromatherapy candles and our personal chef. Just kidding. We're not really fussy when it comes to drinks riders. Just some water, beers and maybe tequila…It's really funny watching other artists having full on meltdowns about this kind of thing. We emptied Tiesto's Jaegermeister Machine backstage at Pacha Ibiza before a show once so I think we owe him a drink.
9. How do you define sexy?
Confidence without arrogance.
10. What is the sexiest City? Hotel? Club? Song? DJ? Place to kiss?
Sexiest City must be New York or Berlin.  Sexiest Hotel, The Hacienda in Ibiza. Sexiest Song, Moan by Trentemoller. Sexiest DJ: my Girlfriend(yes I'm dating a DJ, my life is one giant cliché) Place to kiss, a secret cave I found in Ibiza that you can only swim to.
11. What is your favorite thing about electronic music?
It has no rules. Sampling (when it is used creatively)was the best thing that ever happened to music.
12. How do you incorporate other aspects of music into your sets?
We love rubbing a bit of dirt in our tracks. We always say this but electronic music can sound a bit sterile so we are always looking at ways to bring that warmth back to dance music. Dave and I both did degrees in Jazz and Dave has a masters…which means nothing when we're arguing in the studio! We play around 10 instruments between us including Saxophone, Double/Electric bass, Guitar, Flute, Piano, Clarinet, Drums, sing etc so we pretty much have the whole band covered. Pretty much everything you hear on our albums is played by us bar any guest vocalists.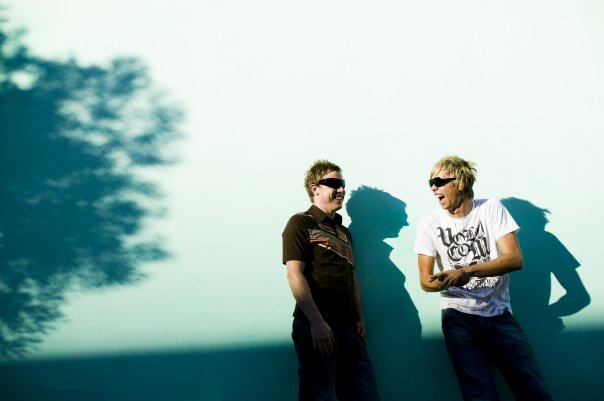 13. What advice would you give to a young DJ/Producer trying to make it?
Don't buy into the wave of fame, hype and noise surrounding electronic music at the moment. You get into this scene because you love music and if you give your best you'll get the best back.
14. What's next for Goldfish?
Our album 3 Second Memory is coming out is Oct, big shows to surround the album release at ADE and a remix of One Million Views by the legend, Carl Cox!
15. What are your three simple luxuries?
We're massive surfers so those would have to be Sun, Sand and Sea. The best things in life are free.
Thanks guys! Check out all of our Interviews in our Interview sections as well as daily music reviews and posts in our Music section!
Please Follow Us!
WARNING: We allow 100 words or less of content per interview to be taken, with a link to our original interview, and used without our authorization. Content larger than 100 words or copying our entire interview without our authorization to be used in ANY manner will result in our taking legal action per copyright infringement.
*Images provided by Goldfish