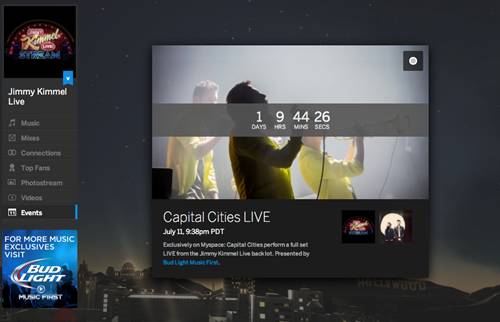 Capital Cities is performing on Jimmy Kimmel Live! on Thursday, July 11 at 11:35pm/10:35pm CT on ABC!!!
As part of the late night show's collaboration with Myspace, the band will also perform an extended set immediately following the live television broadcast. Fans who can't make it to the JKL Hollywood Boulevard Studio to watch the concert can tune in to Myspace to catch the special performance, which will be livestreamed in HD on the site and right below:
Capital Cities' debut album, In A Tidal Wave of Mystery was released on June 4 by Capitol Records, in partnership with Lazy Hooks. Produced by founders/frontmen Ryan Merchant and Sebu Simonian – two LA-based jingle writers who met on Craigslist–In A Tidal Wave Of Mystery includes the multi-format radio smash "Safe and Sound," which hit Number 1 on the Modern Rock format chart, reached the Top 20 at Triple A, and cracked the Top 40 at Top 40 radio.
For more music articles check out DJ raannt
Please Follow Us!