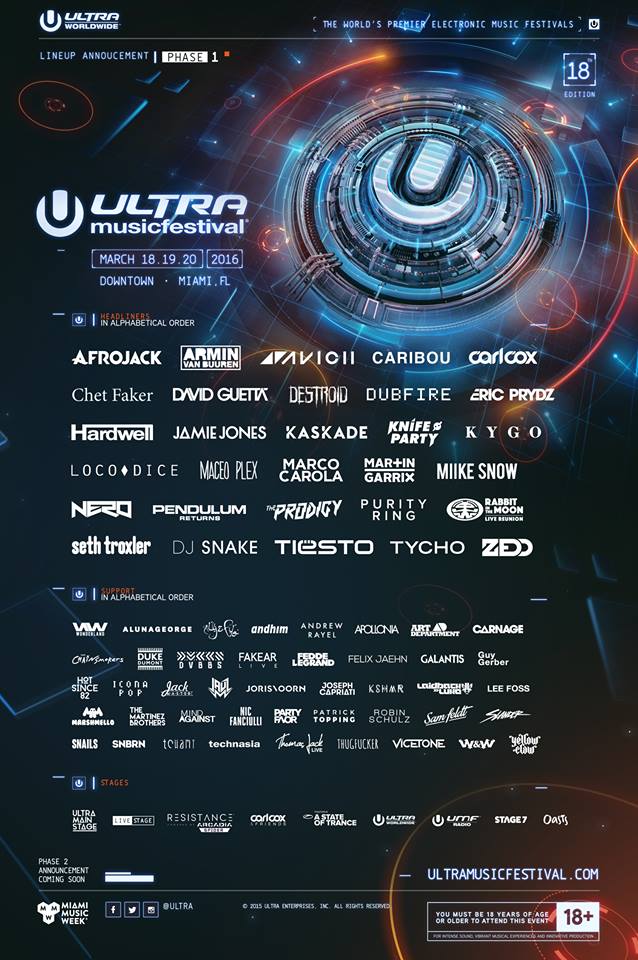 Here we go Ultra Lovers!!!!! Today Ultra released the first phase of the 2016 lineup!! WE! CAN'T! WAIT!!!!!! Click on the picture above to purchase your own tickets! And a little piece of advice, invest in the VIP experience! It's totally worth it and above it all… INCREDIBLE!!!!
Featuring (listed alphabetically):
Headliners—
Afrojack
Armin van Buuren
Avicii
Caribou
Carl Cox
Chet Faker
David Guetta
Destroid
Dubfire
Eric Prydz
Hardwell
Jamie Jones
Kaskade
Knife Party
Kygo
Loco Dice
Maceo Plex
Marco Carola
Martin Garrix
Miike Snow
Nero
Pendulum RETURNS (yes, you read that correctly)
The Prodigy
Purity Ring
Rabbit in the Moon LIVE Reunion (!!!)
Seth Troxler
DJ Snake
Tiesto
Tycho
Zedd
Support—
Alison Wonderland
AlunaGeorge
Aly & Fila
andhim
Andrew Rayel
Apollonia
Art Department
Carnage
The Chainsmokers
Duke Dumont
DVBBS
Fakear Live
Fedde Le Grand
Felix Jaehn
Galantis
Guy Gerber
Hot Since 82
Icona Pop
Jackmaster
JAUZ
Joris Voorn
Joseph Capriati
KSHMR
Laidback Luke
Lee Foss
Marshmello
The Martinez Brothers
Mind Against
Nic Fanciulli
Party Favor
Patrick Topping
Robin Schulz
Sam Feldt
Slander
Snails
SNBRN
Tchami
Technasia
Thomas Jack
Thugfucker
Vicetone
W&W
Yellow Claw
and many more…
The first phase of the Ultra Music Festival 2016 lineup is here! Can U Feel It? Headliners—AfrojackArmin van BuurenAviciiCaribouCarl CoxChet FakerDavid GuettaDestroidDubfireEric PrydzHardwellJamie JonesKaskadeKnife PartyKygoLoco DiceMaceo PlexMarco CarolaMartin GarrixMiike SnowNeroPendulum RETURNS (yes, you read that correctly)The ProdigyPurity RingRabbit in the Moon LIVE Reunion (!!!)Seth TroxlerDJ SnakeTiestoTychoZeddSupport—Alison WonderlandAlunaGeorgeAly & FilaandhimAndrew RayelApolloniaArt DepartmentCarnageThe ChainsmokersDuke DumontDVBBSFakear LiveFedde Le GrandFelix JaehnGalantisGuy GerberHot Since 82Icona PopJackmasterJAUZJoris VoornJoseph CapriatiKSHMRLaidback LukeLee FossMarshmelloThe Martinez BrothersMind AgainstMKNic FanciulliParty FavorPatrick ToppingRobin SchulzSam FeldtSlanderSnailsSNBRNTchamiTechnasiaThomas JackVicetoneW&WYellow Clawand many more…#Ultra2016

Posted by Ultra Music Festival on Thursday, December 17, 2015
In addition to this awesome news, Ultra Music Festival is bringing back the Resistance experience in a bigger and better way! Check it:
RESISTANCE 2015 Year in Review and Special AnnouncementEach year in Miami, Ultra Music Festival showcases new surprises. Last year was the launch of the Resistance stage powered by Arcadia Spectacular's 'Afterburner'. Since then Resistance has had custom productions on 5 continents including a second show with the Afterburner at Ultra Europe.This year, Resistance has teamed up with Arcadia again to produce the highly anticipated North American debut of their legendary 'Arcadia Spider' which will include their new 'Arcadia Landing Show'.Watch this video to see a special sneak peek of the Spider in action and get ready for Resistance powered by Arcadia – March 18-19-20, 2016.

Posted by Ultra Music Festival on Tuesday, December 15, 2015
Posted by Ultra Music Festival on Tuesday, December 15, 2015
Visit Ultra Music Festival HERE for Details!
Check out our reviews and DJ interviews from Ultra 2015
Please follow us for up to the minute info!