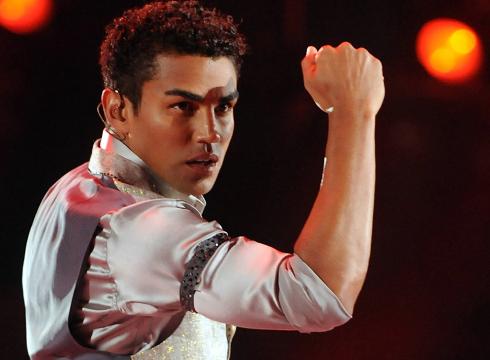 Just hours ago, Superior Court Judge Mitchell Beckloff named TJ Jackson, nephew to Michael Jackson, co-guardian of Michael's 3 children…Blanket, Sheet and Down Comforter.  The decision, allegedly, wasn't made because Katherine Jackson, mother to Michael, isn't doing a good job, but to help her share responsibilities.  Well…we're not buying it.  In every picture the woman looks about half cocked! And why shouldn't she be…my God!  She's 82 raising three kids ages 10-15.  And it's not like the old days where she's just teaching them ABC's and 123's…(insert laughter for bad joke)
But who is TJ Jackson and why are we just hearing about him now??? Apparently, TJ, who is 34 and a spitting image of his uncle in his Thriller days, is the son of Tito.  That's right! TJ stands for Tito Joseph…Oh Lord! You might be better acquainted with TJ by his boy band 3T…or maybe not.  Needless to say, it will be interesting to see if TJ raises the bar and bands these kids together family style.
If it was up to us…we'd give them singing lessons and start up The Jackson 3! All cover songs of course!
(This is in no way meant to discredit Michael Jackson or any member of the Jackson family.  We are huge fans of Michael Jackson…the old post-Wiz pre-weave Michael.  We're also rather fond of the eldest of the Jackson clan, Rebbie Jackson and her infamous rendition of Centipede!)
For daily gossip, reviews and celebrity interviews please follow us!