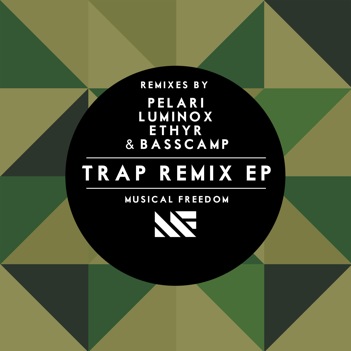 Trap is an exciting dance music sub-genre that has become a personal favorite of Tiësto who's been dropping the heavy bass in his sets throughout 2013. The world's most popular DJ cements his support for Trap with the July 30 release of "Trap Remix EP " – Musical Freedom Records first Trap Music release.
Some of you might be asking…what exactly is trap music? Well…trap originated from the southern US hip-hop and crunk sound, incorporating "808 sub-bass kick drums, sped up high hats, layered synthesizers and "cinematic strings"…In 2012 EDM producers and DJ's started putting this Trap music into their own work, bringing together a collaboration of two simultaneously opposing musical opinions.
Tiësto collected some of the best trap remixes he's heard of various Musical Freedom release. The resulting "Trap Remix EP" is a four-track package that includes Dimitri Vegas, Like Mike & GTA ft Wolfpack – "Turn It Up (Pelari Trap Remix);" Sandro Silva & Quintino – "Epic (Luminox Remix);" R3hab & ZROQ – "Skydrop (Ethyr Remix);" and Tiësto & DJ Punish – "Shocker (Basscamp Remix)."
Track list preview:
Check back in with us daily for music post and exclusive releases in our Music section!
Please follow us for all kinds of cool stuff!