We arrived to the show a little after 10, 10:30ish really. We picked up our tickets and headed straight to the room… or so we thought! After the door peeps scanned our tickets, no one gave us directions as to where the show was. So we went upstairs (the Old National Center has multiple rooms and levels) to the room we've always seen shows at. We walked in and on stage was Mac Miller… We thought this was an interesting opener for Seven Lions, but we also thought that he's a pretty forward thinking musician so why not.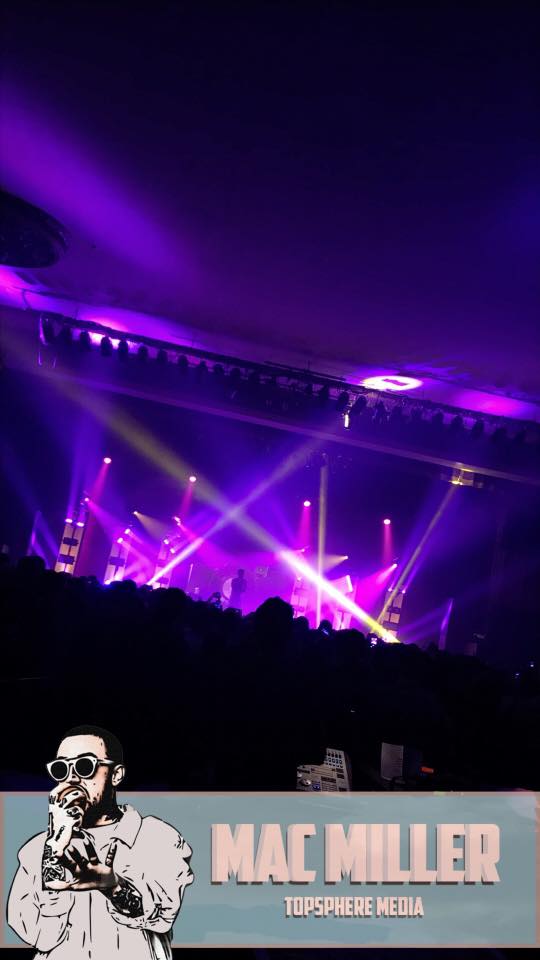 At about 11pm, or a little after, Mac Miller ends the show… and just like that, the crowed rushes out and the lights come one. UUHHHHHH no no sir! We're here to see Seven Lions and it's only 11:05pm. WTF! We walked up to one of the bars and asked if we were in the wrong place… and sure enough, we were! We were instructed to go all the way down to the basement.
We walked down, after fighting through the masses of Mac Miller fans… which BTWs he rocked the stage (not a rap type of guy here, but bro knows how to put on a good show! We digged it!)… So get down to the correct space and we hear the electro thump, the crowd is totally different and once we we walk in the vibe was totally different!
Grum was setting the vibe with some awesome beats. A little all over the place, but also all over the place in a good way. He went from mixing top 40 to some oldies to some deep house to some trap and dubstep… Nice job! Pegboard Nerds followed, never seen them before but enjoyed their trap vibe. Personally, they reminded us of the good old grunge days of the 90s (not their sound, but their vibe). Their beats were fun and up-beat. Seven Lions hits the stage with major graphics and of course incredible beats. He dropped some of our all time favorites and newbies (at least to us). All in all, these guys rocked it! Great show and what an awesome way to enter the December holidays! The Journey tour may be over, but the you can still catch Seven Lions at shows… Next one is on January 28th!
Click here if you want more Electronic Dance Music?! Follow us for a behind the scenes look of our lives!