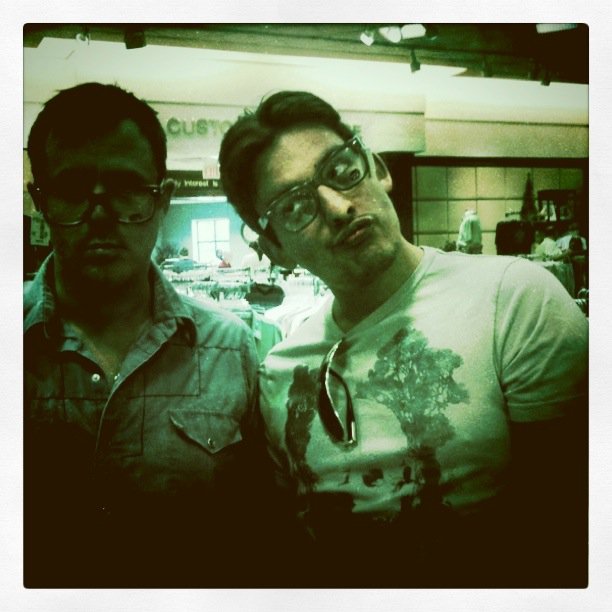 I think what makes us fit is that we don't fit.  We kind of groove to our own music and dance to our own beat.  Sure, we like some of the same things as everyone else; television shows, music and brands, but rarely do we ever find ourselves in a position where we feel like we fit perfectly.  And…it's different for each of us.  While Alex feels much more comfortable dancing on stage to Britney Spears, I definitely feel much more comfortable in some low grade, bar with a small band playing in the corner…which I think is why I'm secretly in love with the new Gypsy Queens all of a sudden!
Alex is definitely the more outgoing of the two of us. In fact, sometimes I find myself hiding, literally, in his shadow.  Which is ok, because he enjoys the spotlight enough for both of us.  But even though he would say he "fits", I sit and watch him downloading music and dancing to the thumping beats coming from his headphones and I realize he would be much happier on a yacht in Ibiza or in club in Las Vegas, mingling with DJ's and discussing the newest stage of music.
Our differences are what make us fit…together. And those things that we enjoy, together, are the things that glue and cement the differences…like beautiful street art.
We both love staying up very late into the night, dancing when no one else is dancing, sweating and running to our car.  We love beaches and hot summers and laying by pools and doing nothing but shopping, eating great food and having great, loud conversations with our friends…all of us rosy cheeked from being burnt by the water that day.
I love Lana Del Rey, The Gypsy Queens and classic rock, like Led Zeppelin, from the 70's.  He loves Britney Spears, EDM and Shakira.  He would never listen to country song, by his own choice, ever…but I know almost every word to every major country song.  He reads hilarious memoirs and I read espionage stories and pulp mysteries.  He could shop for hours in Louis Vuitton while I'm happiest in a vintage clothing or record store.
But when we lay there at night and look at one another right before we fall asleep…it works.
And that's kind of what raannt is all about.  Making all of us work through our differences together.  Appreciating each others' differences and learning new things from one another, educating and getting excited about things we never knew before! Hell, my introduction to an entire new world of Latin American culture is a huge example of this…but now I'm a lover of all things Latino…especially my men!
So maybe we can all start shutting up about our differences and begin to come together and dance a little bit more while we still have time!
Til tomorrow…
Be Yourself.  Be Fearless.  Be Your Own Unexpected Luxury!
Peter and Alex