Barnaby, our dear friends from down-under, aka Australia, make socks.  They've put their feet together to create a brand of socks inspired by geometry, patterns, symmetry and colour (as their site states).  So! We had to give them a try.  Our fashion sense is fueled by things that have depth, meaning, creativity, and above all, simple luxury.  Their SS13 (which means now in Australia, while we're stuck in the annoying beginnings of winter) features bright fun colors, soft combed cotton, and cheeky patterns. The socks will not only dress up your feet but will also make the perfect companion to each and every one of your oxford shoes!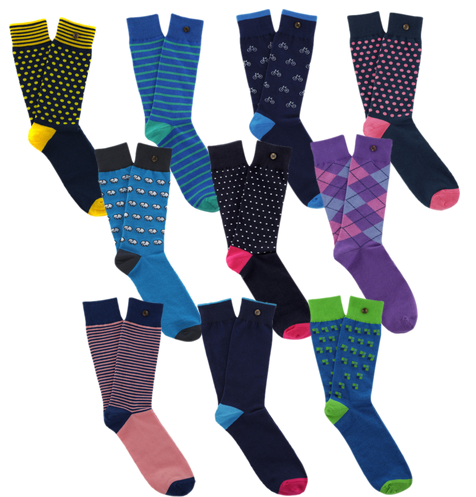 Not only have these cats created a cool line of socks, they've also teamed up with YGAP.  YGAP is an organization that inspires social entrepreneurs to end poverty through youth education and leadership.  All proceeds from the blue and green – YGAP – sock will go to the organization.
But the best part of these socks is the matching button and button hole on each pair, to help you pair your socks together in your drawer! Ingenious.  We love anything that adds a little something extra and this makes these socks from Barnaby pure perfection!
Check out their website for all of their amazing goods!
Check back for more of our daily style posts in our Style section!
Please follow us!