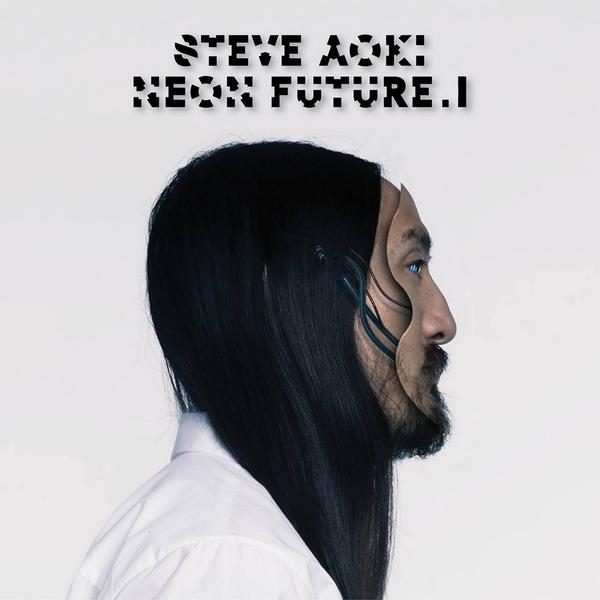 Steve Aoki is known for putting on killer shows; incredibly energetic and crazy wild live experience. His newest album Neon Future Vol. 1 feels like the morning after the party. The tracks are emotionally filled with great vocals, great collaborations and plenty of energy to either chill or get the party re-started! Neon Future Vol. 1 has made us, once again, fans of the creative mind of Steve Aoki and this positive futuristic view of our future makes us believe that with music and love… we can all achieve greatness. Let's break the album down:
1. Transcendence (feat. Ray Kurzweil) [intro] – Personally, we think it's the perfect start. It introduces the feel to the album with a message that we all strive for and hope for (you're going to have to get the album to know what the message is);
2. Neon Future (feat. Luke Steele) – A very futuristic feel, though keeps the current movement of electro music strong. The track is pretty perfect for killer cardio workouts, girls night out, getting ready with friends or even just prepping your meals for the week;
3. Back to Earth (feat. Fall Out Boy) – Electronic music & Alternative music make a baby;
4. Born to Get Wild (feat. Will I Am) – This track has Will I Am all over it, not bad, though not the best in the album;
5. Rage the Night Away (feat. Waka Flocka Flame) – Big room sound and fun party vocals by Waka Flocka Flame… definitely a festival rager;
6. Delirious (Boneless) [feat. Kid Ink] – A fun remix;
7. Free the Madness (feat. Machine Gun Kelly) – Great high energy, good workout song;
8. Afroki (feat. Bonnie McKee) – Definitely our favorite track of the entire album. Brings the true sound of electronic music and vocals and pulls out the killer goosebumps we all love so much. Steve Aoki + Afrojack = Afroki;
9. Get Me Out of Here (feat. Flux Pavilion) – Smooth dubstep;
10. Beyond Boundaries (feat. Aubrey de Grey) – Pretty cool way to end the album… Circling back to the first track, we like the message and the feel!
Feel like getting Steve Aoki's Neon Future Vol. 1?

Check back for more of our daily music reviews and posts in our Music section!