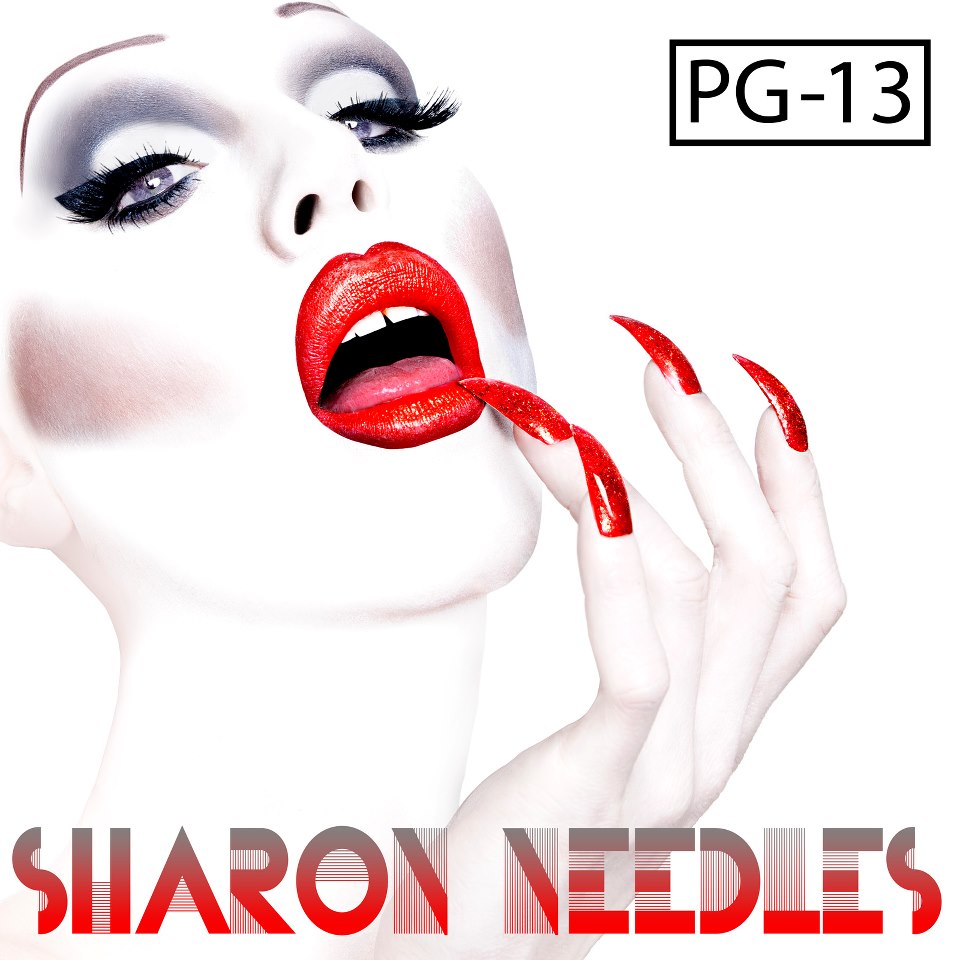 Wow…we're not even sure where to start.  Well…If you didn't know that Sharon Needles, winner of RuPaul's Drag Race Season 4, was releasing an album, guess what…Yep, she released an album, coincidentally the day after the premiere of RuPaul's Drag Race Season 5.  The album, titled PG-13, was released at the same time as the video for her first single This Club is a Haunted House and later be releasing a documentary about the making of the video titled Sharon Needles: Parental Guidance Suggested and will also be releasing a book titled This Book is a Haunted House later this February about the making of the video. (Can you imagine if Nicki Minaj or One Direction released so much fan merch about the making of their videos??? They'd be millionaires…Oh yeah.)
So with all this hype about the release of her album, video and merchandise, how good is the album, really? Pretty damn good.  And we were surprised because as much as we love Sharon Needles and are huge fans, we started to wonder if maybe she was shooting for the stars too early.  Not at all.  She's one devil of a rock star baby! We had the opportunity to interview Sharon last year, and we were excited to see that her music and her art in the album stayed so true to our interview Sharon Needles Has Balls!
The album consists of 12 songs.  The opening song, This Club is a Haunted House, opens with narration by RuPaul, much like his famous Supermodel song.  In fact, much of the song, as well as the video, is a parody of other artists that you realize instantly that Sharon Needles has a talent for collaborating pieces of other people's work and poking fun at who she likes the most.  You also see collaboration with Amanda Lepore, Ana Matronic of the Scissor Sisters, Jayne County and even a cameo from her boyfriend Alaska.  This Club is a Haunted House is a strong club song and will be remixed a million times.
Interestingly, her pop song, Call Me on the Ouija Board, is probably one of our favorite songs on the album.  Imagine One Direction meets Jeffree Star meets teenage Satanic pussy cat cheerleaders…and we mean that as a compliment. Love this song! Can't wait for this video!
Dead Girls Never Say No is highly reminiscent of 80's bands like, interestingly named, Dead or Alive.  She also say's "I'll be a Rosemary's Baby Tonight" playing off of the horror movie reference of her first track This Club is a Haunted House, where she mentions horror movie direction William Castle.  Sharon definitely knows her shit!
The next track, Drink Til I Die, is like 90's easy listening queen Basia on crack.  Kind of like filler for the album.
I Wish I Were Amanda Lepore (Ft. Amanda Lepore) is a pop dedication love song of sorts.  Who really cares, right? It's about Amanda Lepore.  Period.  The song is ok, but a little weak.
Why Do You Think You Are Nuts is where the true Sharon Needles shines! We love this track!  And maybe because it reminds us of small punk rock bands organizing in garages across the Midwest in the late 80's.  Although, this is a band that will make it! If Sharon had released an entire album of this kind of music, she probably wouldn't get the pop/club attention she'll get otherwise, but this is her best work on the album.
Disco Ball…I'm gonna take you for the spin of your life? No thanks.  Really bad lyrics. Enough said.
Of course we loved Dressed To Kill because it's like a mature version of that punk rock band mixed with the 80's sound of Dead or Alive, with a little glam rock glittered around in the background.  Perfection.
If Sharon Needles were the villain in a James Bond movie, Let's All Die would be the title of the film…and the theme song.  We loved that she sings, no one gets out alive, a play on words of the title of the bestselling biography about Jim Morrison of The Doors.  Are we reading to much into this…probably.
Kai Kai (Ft. Ana Matronic and Alaska) Really??? The song is really not bad, but just a year after Let's Have a KiKi…with a member from The Scissor Sisters??? Yeah really, because this is Sharon's humor poking fun at the gay obsession with that damn song.  She also pokes fun at it in her video for The Club is a Haunted House when she says the first line of Let's Have a Kiki.  A kai kai is when two drag queens date…or screw.  So to anyone who says, "She copied that song"…you're an idiot!
Everyday is Halloween is the definite depressing ballad of the album.  We can already imagine thousands of kids laying in their bedrooms, dressed in drag totally relating to these songs! Every teenager needs an idol, right? Well…adults need idols too!
In Hail Satan (Ft. Jayne County), the real Sharon Needles is back! We are so happy she ended the album with this track, which is so true to some great punk bands, with those combat boots thumping, heisting beer bottles in the air! Great song baby!
And there you have it…the most confusing album since Britney Spears released My Prerogative! And we love them both! Maybe Sharon hasn't found her exact sound yet, but give her a break, she's not Leann fucking Rimes for Christ's sake! Her album is experimental, yet mature, confusing, yet direct, beautiful…yet haunting.
Check out her video below and go buy her album on iTunes.
Read our interview Sharon Needles Has Balls HERE!
Read all of our RuPaul interviews and updates, just search for RuPaul in our search box!
And if you're gay or like gay people…follow us: