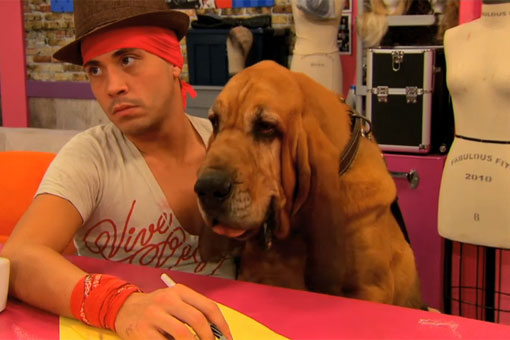 Were you guys crying, like we were, tonight as Latrice gave her sashay speech to RuPaul? "Thank you for seeing something special in me." It was clear it was time for Latrice to go but she was so damn endearing, even up to the very last minute, that we didn't want to see her go.  Couldn't we just keep it those final four forever?
If you didn't watch tonight's episode we'll break it down for you.  The audience is pulled even further into the show by four absolutely adorable dogs, especially the one Chad Michaels assigns to himself, and we get to see the other girls poke fun at Phi Phi again as she gets slobbered over by her enormous dog.  They have to present several outfits…Daytime Party Realness.  Party with a Pooch in your Purse or something and Pooch Couture?? It didn't really matter.  All three of Latrice's outfits looked similar.  Chad Michaels looked the most daytime housewife in the park.  Her party outfit was dead up on Kim Kardashian, as noted by RuPaul…but her couture outfit was more of a one piece deal…we were confused.  Phi Phi looked great in all of her outifts, especially her daytime realness which was actually something more out of a Japanese Anime book; but she looked incredible…and we greatly appreciated her custom made, pink glittered poop scooper. (Can we buy one please?) Sharon, our fave, of course looked great in all three outfits.  Her daytime realness looked incredible, but her rock star, party outfit complete with house arrest bracelet proved she is much more a bad girl. The poodle boots she wore at the end were absolutely incredible and she looked like she was on the cover of a 1960's French Vogue.
Ok, so here's the problem.  Although we love Sharon Needles…we would really be happy if any of the top three won.  Chad Michaels is so incredibly polished and amazing that she definitely deserves to win for those reasons alone.  Phi Phi, besides being the only really cute boy on the show(don't laugh, you know its true), has really come a long way.  But she's such a bitch.  Funny…she's a lot like us, but instead we find ourselves rooting for Sharon?? Actually what we want is for Sharon and Phi Phi to become friends, something it appears Sharon wants and attempts on every show.  In fact, although she wouldn't admit it, she's a little attention seeking from Phi Phi.  Damn Phi Phi…you all talk about how hard your lives have been and how people haven't treated you nice…THAT was what Sharon was talking about on the runway!!! Be friends dammit and show the world that even bitches can get along!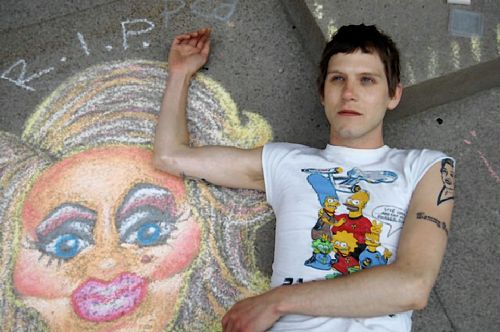 We believe RuPaul's Drag Race really teaches us about the inner trenches of ourselves.  Here you have a bunch of drag queens, probably some of the most misunderstood people in the world, and they've created their own little microcosm of the world, where jealousy, fear, wisdom and bullying are just as prevalent as they are in the real world.  We believe we tend to favor Sharon because she represents that pain in a way that reminds of that part of ourselves that wants to be true and real, but also dreams for the acceptance from others.  Isn't that what being gay is all about?
The show even got better afterwards on RuPaul's Drag Race Untucked.  Did they really make THE Dita Von Teese wait…and then she left? Seriously?
Oh…and Chad Michaels is 280 in dog years, not 170!
Good Luck bitches!
Check out our interviews of this seasons RuPaul's Drag Race cast…and read our other reviews in our RaanntTV section!
Be Yourself.  Be Unafraid.  Be Your Own Unexpected Luxury!