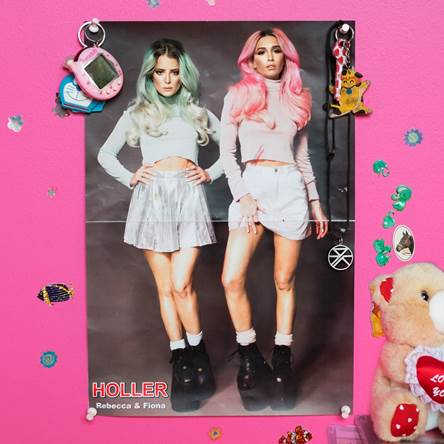 DJ duo Rebecca & Fiona have premiered the video for their second single "Holler". After catching these dolls at Ultra Music Festival, we can't even start to show the level of awesome these girls have when it comes to their music. They're mutual rhythm for the music, their vocals, their sex appeal, and their talent makes for incredible edm magic. Check out their new video:

In true Rebecca and Fiona fashion, the girls create a video that is intriguing, colorful, fun, a much much cooler version of the Spice Girls – and the Spice Girls were really cool!! – and above all, musically captivation. The track and the video really connects with you, via words or beats. Another homerun for these dolls!
Rebecca & Fiona Tour Dates
April 2 Boston, MA @ NAGA
April 4 New York, NY @ Pacha
April 5 Atlanta, GA @ Opera
April 9 Portland, OR @ Whiskey Bar
April 11 Seattle, WA @ Foundation Room
April 12 San Francisco, CA @ Ruby Skye
April 24 Washington, DC @ Ultrabar
April 25 Cleveland, OH @ Liquid
April 26 Toronto, ON @ Guvernment
May 1 San Diego, CA @ Bassmnt
May 2 Calgary, AB @ TEN
May 3 Chicago, IL @ MID
May 8 Costa Mesa, CA @ Sutra
May 9 Las Vegas, NV @ Marquee
May 10 Montreal, PQ @ New City Gas
Check out all of our daily music reviews and posts in our Music section!
Please follow us!