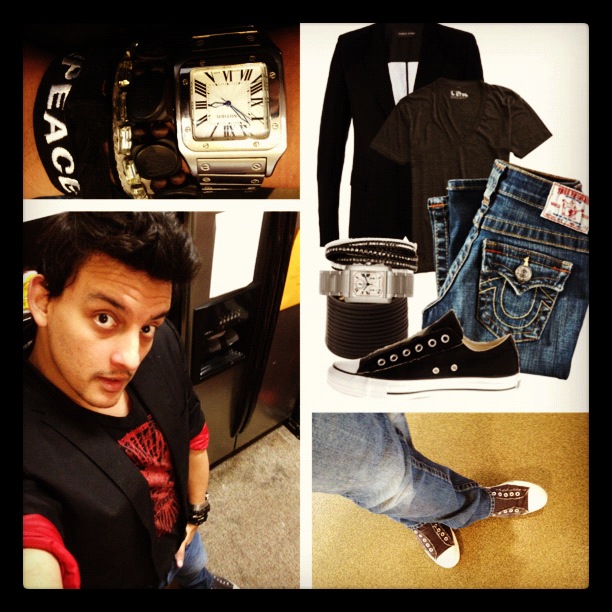 When picking out what we're going to wear for the day…comfort usually rules.  Our closet is so eclectic that we like to pull opposites together, which indicates our inner personality dictating our individual style.  Alex definitely puts more thought in his outfits, but is always true to himself, whether what he is wearing is trendy or not.  Neither one of us is ruled by magazine articles or runway shows, although we're obsessed with both, but we find our style happiness more in what makes us feel attractive.
Since we're constantly asked what we're wearing or where we shop, we thought it would be fun to begin highlighting one of our outfits daily.  You will probably find that Alex tends to lean more towards colored pants and tighter, button down colored shirts and wingtips, while Peter sways toward the vintage, with 70's Western shirts and old concert tees.  We both have a love for accessories; jewelry and watches, shoes and underwear…and luckily, we share all of it!
Out of Our Closet Today 5-4-12:
Black Sport Coat: H & M
Black Graphic Tee: We made these at a local t-shirt shop for awareness of disaster in Japan
True Religion Jeans: Saks Fifth Avenue
PEACE Bracelet(also comes in LOVE) Gift shop at The Cosmopolitan in Las Vegas
Cartier Santos Galbee Men's Watch: Cartier
Black Converse Low-Top Slides(We're addicted and have them in several colors): Converse or Nordstrom
Be Yourself.  Be Fearless.  Be Your Own Unexpected Luxury!