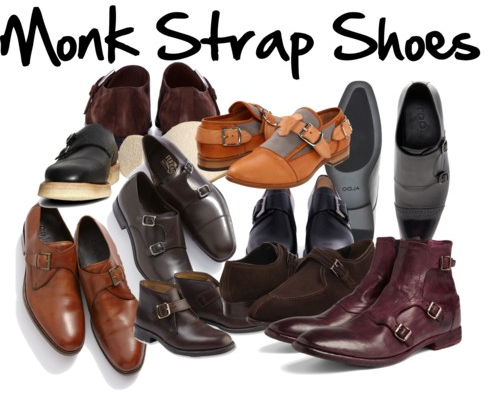 The Monk Strap shoe has been in and out of style for a long while now, 15th century to be exact.  The Italians have had their fingers – in this case toes – in on the pulse of fashion since the beginning of time!  These shoes are said to originate from the friars (Roman Catholic high member of the church) in the Italian Alps, later brought to London where this unique shoe became a trend.
This fall season, fashion history cycles again to bring these shoes back in trend.  Here are a couple of ways you can wear them best:
Where them with a narrow pair of pants.  The current idea of these shoes is to show the decorative strap and buckle.
No socks are encouraged for both casual and formal.  The shoes are trendy enough that anything goes well with them.
If you want to wear socks, get creative with them – choose some that are appropriate for the weather and also have fun with patterns and colors.
Now that you know how to wear them, here are a couple of tips on how to take care of them:
Dust a little bit of body power, like Gold Bond, before you wear them sock-less and after. It keeps your feet cool during the hot days and smelling fresh after.
Polish your shoes! A true well-dressed gentleman will feel completely dressed once his shoes are polished.  Get the cream/wax at the shoe store or pay the $5 at the train station; add old school charm to something that is already classy.
Get yourself a pair of comfortable inserts.  If you take care of your shoes, they will take care of you.
And as always…
Be Yourself.  Be Fearless.  Be Your Own Unexpected Luxury!
Check out all of our style posts and daily looks in our style section!
Please Follow Us: