React Presents and Jam Productions announce the 1st round of artist that will rock out Montrose Beach on Friday, August 23rd & Saturday, August 24th! As Chicago's exclusive beach music festival, Mamby on the Beach will be bringing amazing artist to celebrate the new festival location, Montrose Beach.
The Mamby 2019 headliners are Brockhampton, Troye Sivan, ZHU, Sylvan Esso, Virtual Self, and Flying Lotus 3D. Supporting acts include Quinn XCII, Phantogram, Santigold, Justin Martin, DJ Seinfeld, Summer Walker, A R I Z O N A, Sofi Tukker, a DJ Set by Washed Out, NAO, WAJATTA (comprised of Reggie Watts and John Tejada), and more. More artists will be announced very soon.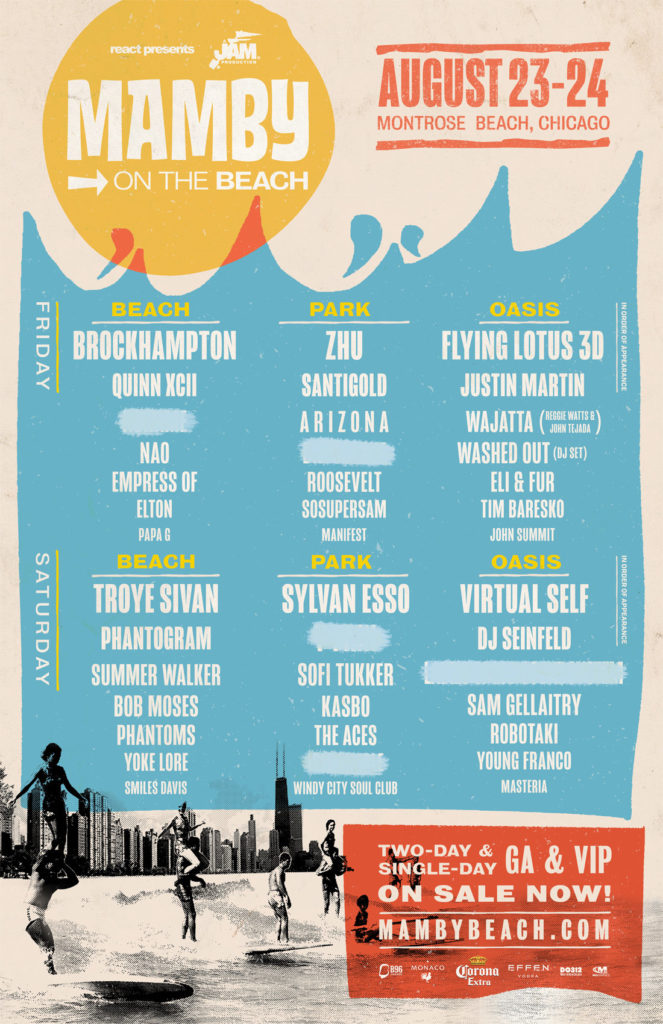 A R I Z O N A
BOB MOSES
BROCKHAMPTON
DJ SEINFELD
ELI & FUR
ELTON
EMPRESS OF
FLYING LOTUS 3D
JOHN SUMMIT
JUSTIN MARTIN
KASBO
MANIFEST
MASTERIA
NAO
PAPG G
PHANTOGRAM
PHANTOMS
QUINN XCII
ROBOTAKI
ROOSEVELT
SAM GELLAITRY
SANTIGOLD
SMILES DAVIS
SOFI TUKKER
SOSUPERSAM
SUMMER WALKER
SYLVAN ESSO
THE ACES
TIM BARESKO
TROYE SIVAN
VIRTUAL SELF
WAJATTA (Reggie Watts x John Tejada)
WASHED OUT (DJ SET)
WINDY CITY SOUL CLUB
YOKE LORE
YOUNG FRANCO
ZHU
MORE ARTISTS TBA
While we still have a few months till we're grabbing our SunBum SPF, favorite ASOS swimsuit, QUAY shades and sinking our toes in the sand… one thing is for sure; Mamby's 2019 artist lineup is BEACHIN'!
Click here for more Electronic Dance Music NEWS.