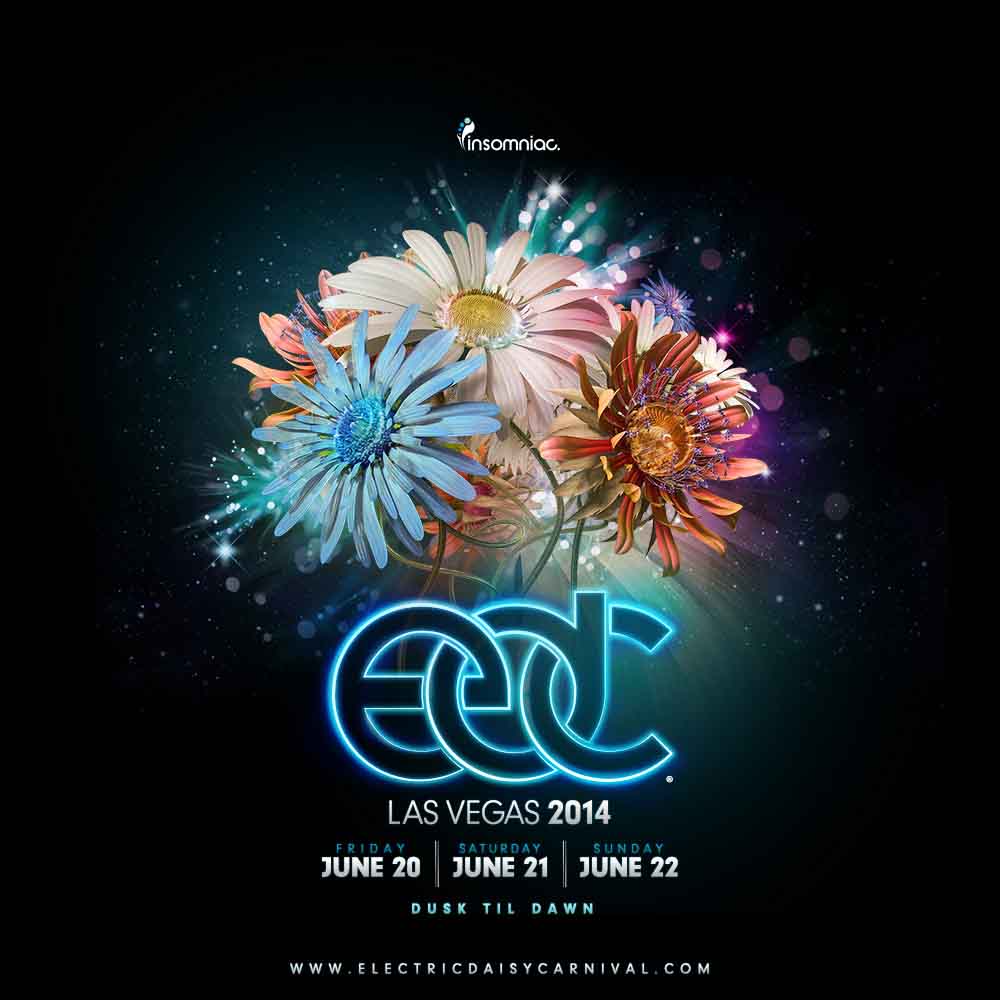 Insomniac announced that Electric Daisy Carnival (EDC), North America's largest dance music festival, will return to the Las Vegas Motor Speedway for its 18th edition on June 20-22, 2014. The festival will bring Insomniac's signature over-the-top production and creative elements to the venue including elaborately designed stage production and lighting, pyrotechnics, roaming theatrical performers, dancers and acrobats, interactive art installations and amazing music, with many new surprises for fans to discover.
Today's announcement was released via a seven minute mini movie which relived some of the many magical moments shared during EDC Las Vegas 2013 as well as important information regarding upcoming on-sale dates for the 2014 edition of the festival.
For the first time, Insomniac is excited to unveil the "Headliner Loyalty Program," which gives loyal fans the opportunity to secure tickets first. Loyal fans that successfully purchased passes to EDC Las Vegas in 2011, 2012 and 2013 will be able to use a unique code to participate.
"It's the fans that make our success possible and it's for that reason that we decided to develop the 'Headliner Loyalty Program' for the next EDC Las Vegas," said Pasquale Rotella, founder and CEO of Insomniac. "It's their energy and love that make this event possible, so I'm really excited that we've found a way to reward those who have been with us in Las Vegas since this adventure started in 2011. We are counting down the days until we welcome everyone back to Las Vegas next June."
"Headliner Loyalty Program" passes will go on sale for 24 hours, beginning on Nov. 25 at 12 p.m. PST and ending on Nov. 26 at 12 p.m. PST.  An Early Owl Pre-Sale will follow on Dec. 2 at 12 p.m. PST. Additional details regarding the Headliner Loyalty Program and Early Owl on-sale dates can be found on both the Insomniac and EDC websites.
A sold out crowd of 345,000 fans came together over three days for the 2013 festival, which saw expanded production and theatrics.  The festival received acclaim through the introduction of new, meticulously designed scenic and production stages, inspired art installations including an art car parade and the innovative Night Owl Experience, the brainchild of Rotella.
EDC will once again take over Las Vegas during EDC Week, June 17 – 23, 2014, with an eclectic mix of nightclub and dayclub events spread across several Las Vegas' venues. Insomniac's annual dance music conference, EDMbiz, will also return for its third year in addition to a brand new dance music awards show.
Tickets for EDC Las Vegas 2014 will start at $249 for general admission and $499 for VIP tickets for those 21 and over, in addition to service fees. VIP amenities will include a separate entrance to the festival for rapid entry, viewing decks overlooking multiple stages, full cash bars located on the VIP decks and lounge areas, separate restroom facilities, access to exclusive areas, a VIP lanyard and badge and a dedicated Ferris wheel. A layaway pricing option will be available for all on-sale dates. Single day tickets will not be available for this three-day experience.
General admission tickets will be in the form of a magnetic card and VIP tickets will receive RFID wristbands. One commemorative EDC box will be included per order. In previous years, these boxes have included EDC key chains, stickers, a festival guide and other trinkets.
Information on shuttle passes, travel packages and details regarding the full EDC Week schedule of events will be announced in the coming months at www.electricdaisycarnival.com and www.insomniac.com.
Check back for more music reviews and posts in our Music section!
Please follow us!