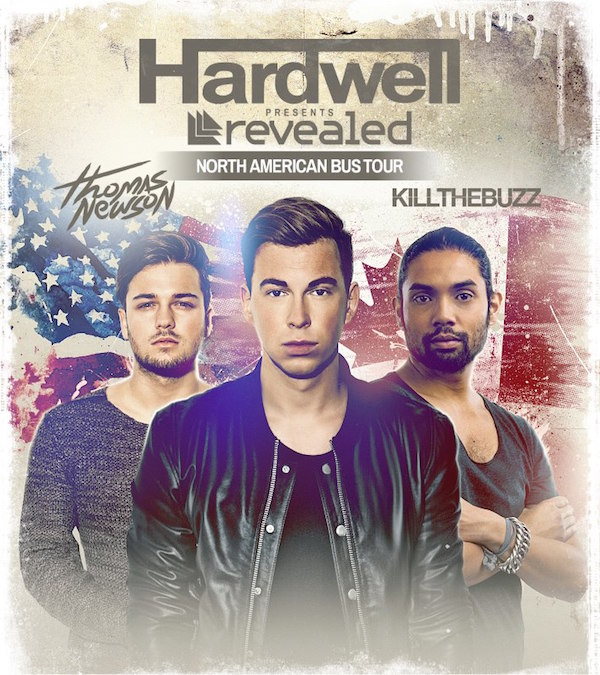 Kicking 2016 in style, Hardwell is hopping on a tour bus and hitting North America. He'll be bringing along progressive-house shark Kill The Buzz and big room stud Thomas Newson. Together, they'll be hitting up 11 North American cities with, what we believe be, an incredible show! Look, if the former #1 world DJ is telling you to get your tix for his show… I would take his advice and get the tix!
Ticket sales for my @revealedrec bus tour are now live!! 🇺🇸 🇨🇦 https://t.co/vNf08Z81y5 @thomasnewson @killthebuzz pic.twitter.com/fSQWfm6LAZ

— Hardwell (@HARDWELL) December 18, 2015
Here's a list of the 11 cities they'll be hitting… and who knows, they may be adding more! (here's hopping!).
Hardwell North American Bus Tour Dates:
2/25/16                    Metropolitan Nightclub     New Orleans, LA
2/26/16                    Tabernacle                       Atlanta, GA
2/27/16                    31st Street Studios           Pittsburgh, PA
2/28/16                    The Bluestone                  Columbus, OH
2/29/16                    SoundGarden Hall            Philadelphia, PA
3/1/16                      Shrine                               Mashantucket, CT
3/2/16                      Royale                              Boston, MA
3/3/16                      Marquee                           New York, NY
3/4/16                      F-Shed                             Syracuse, NY
TBA                         TBA                                  TBA
3/6/16                      EY Centre                        Ottawa, ON
Purchase your tickets here: https://www.djhardwell.com/bustour
For more DJs and EDM beats check out more of our music reviews