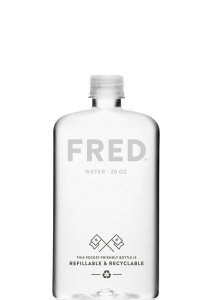 While we were at Fresh Market the other day, we were checking out all of the bottled waters and juices when we saw this bottle of FRED water.  Honestly, it was nothing more than the bottle that made us want to get it.  How could we possibly turn down a FLASK of water.  It's genius! When we got home and looked at their website, we even fell in love with them more being that their ad campaign says "Free Refills Forever and Ever" and shows a guy filling up his water bottle.
Seriously…no bullshit!
We love it! We'll be carrying it everywhere; to the gym, in our car and to music festivals!
Go to their website and buy a bunch of it up today and give it out to friends!