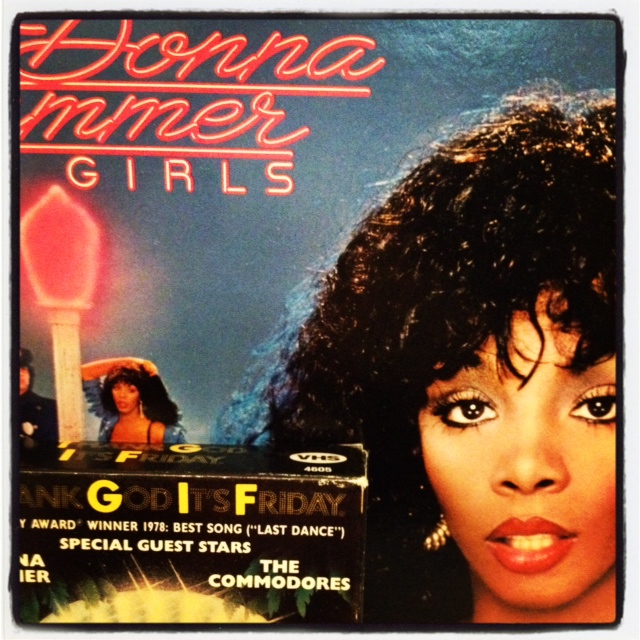 Donna Summer died today.  To anyone under the age of 30 this probably won't mean much…but to the rest of us, with her, literally, dies one of the greatest eras of dance music ever.
As a little kid, I spent hours with my best friend Jessie roller skating to Donna Summer's albums in my driveway.  We would act like we were at the Playboy Mansion and I was Hugh Hefner while Jessie was Donna Summer.  We, Donna and Hugh, were the best of friends and would throw the most lavish parties including, of course, a roller skating dance routine! One of my greatest childhood memories is being stuck inside during a blizzard and we turned my cement floored basement into a roller disco! Donna would have been proud.
My love for Donna Summer probably started when I was 5 or 6 and with it began my life long obsession with celebrities and pop culture.  I watched her as she rose up the charts of the disco scene into country music and even gospel music.  As a gay icon, I think I worshiped her from afar because she was everything I couldn't be…but lace up those roller skates and turn on the records and I was in the spotlight.  When kids talk today about feeling liberated after seeing Lady Gaga I relate…because Donna Summer was my Lady Gaga.
I walked down into our basement today and pulled out my old records, Bad Girls being my favorite, and even found my VCR copy of the movie Thank God Its Friday! I put the music on in the background while I was working but found myself getting sad.  Another legend gone.
But as the record spins and I watch her dance on my television screen to Last Dance, with that gorgeous sparkling dress and amazing hair, I'm liberated again…knowing that life is much too short and we have to enjoy the party while we're here!
http://www.youtube.com/watch?v=UVShxahrOAQ
We'll miss you Donna!
xo
The boys of raannt
Be Yourself.  Be Fearless.  Be Your Own Unexpected Luxury!