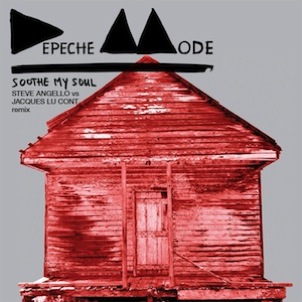 Monday May 6th EDM guru Steve Angelo and Jacques Le Count exclusively released on beatport a remix of Depeche Mode's Soothe My Soul from their latest album. The perfect 80's song brought back for the new millennium music world!
The track sits comfortably on its originality while the duo lights up on the track's dance capabilities!  The legendary Depeche Mode has created an epic track and both Steve Angelo and Jacques Le Count have brought it to new levels.
The Soothe My Soul remix follows on the heels of an intimate concert Depeche Mode recently performed for fans at Los Angeles, CA's Troubadour club, which marked the band's smallest show ever in Los Angeles. In addition, the group also recently launched their first world tour in four years in conjunction with the release of their new studio album Delta Machine. The European leg kicked off in Nice, France on Friday, May 4th with North American dates set to commence in Detroit on August 22nd.
Check out the entire track exclusively here:
Check back in with us for daily music reviews and posts in our DJ Raannt section!
Please follow us for up to the minute info about music releases and tours!