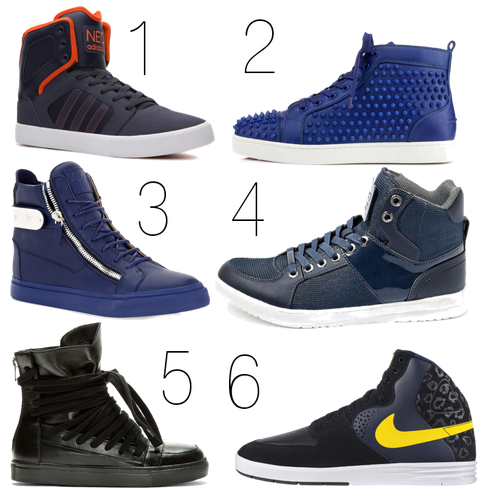 Aaahh yes… the high tops! Probably one of the sexiest, must have accessories of the year. This killer style is back from the 90's and this time, they're here to stay! Though they've been in style, in some "genres" of fashion, since then… high top shoes are really taking over. A few years ago, we couldn't get enough of oxford shoes and wigtips, last summer we were dead over every boat shoe we saw… and now, we're definitely high on high tops! The style is great for casual settings, dress them up with skinny jeans and a fitter tee, or be super trendy and throw on a blazer over a tank top and truly stand out! Check out these killer six high top styles we're obsessed with!
1. Adidas NEO High-Top Sneaker
3. Giuseppe Zannotti Back Buckle High-Top Trainer
4. Guess Trippy High-Top Leather & Mesh Sneakers
5. Krisvanassche Black Leather Overlaced High-Top Sneakers
6. Nike SB Paul Rodriguez 7 High
Check back for more regular posts and reviews in our Style section!
Please follow us!