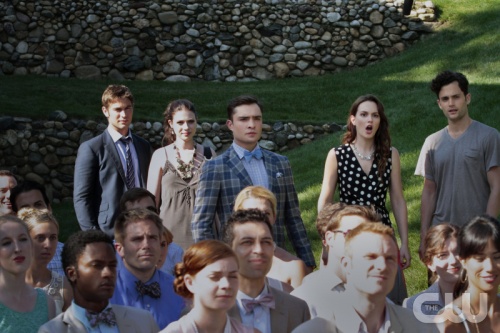 O! M! S! G! (One More Season of Gossip Girl!) What is about to happen!!!
Yep,  the final season of GG is here and we couldn't be happier to see the premier but also sad that it's the last season! Which PS! CW!!! Why are you making this final season only a 10 episode one?! Hmm?! We would like to have a full  season,  but whatever… we'll  take what we can get… at least we're getting a final season; some shows didn't even get a conclusion!
So here's the general idea of the season premier:
Serena has been missing and as the Upper East Side starts to wonder where the IT girl is so do her friends.  All across the board we play catch up.   Dan comes back with Georgina and they continue to work on his tell all book.  Chuck and Blair are back together but not really… what else is new! And Nate is still set on taking down GG while Serena is falling in love or toying with the emotions of some rich sexy guy.   6 seasons later and we're still on the same story line? As much as we love the show, I guess we understand why this is the last season.  The writers have lost creativity!
Which reminds us O! M! F! G! Rufus  is hooking up with a super sexy gal pal that was pretty hated last season… Ivy Dickens!!! Aagghh!!!
Check the season premier tonight, October 8th at 9/8C.
Check out the promo pix released by The CW:
And Check out this video from the CW to find out…Who Is Gossip Girl!
Follow Us for reviews and behind the scenes tales of all of your favorite shows!