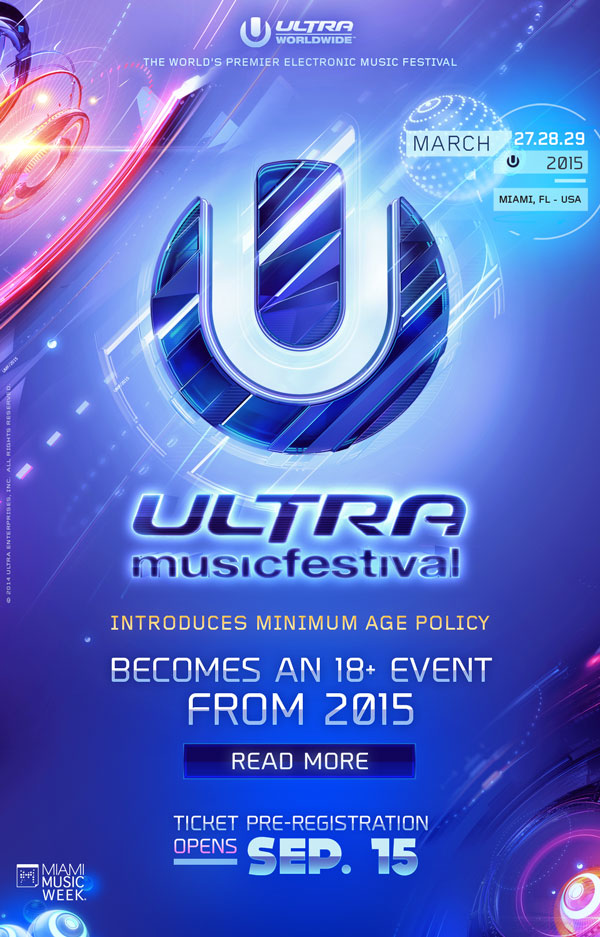 Ultra Music Festival Miami 2015 has just set confirmed dates of March 27th, 28th, and 29th.  Preregistration for the 2015 dates opens September 15.  And new this year, Ultra has introduced a minimum age requirement of 18+.
The following is the press release from their page:
"For the first time in its history, Ultra Music Festival is introducing a minimum age of attendance to its flagship festival in Miami. Beginning with its 2015 edition, confirmed for March 27, 28 and 29 2015, Ultra Music Festival will now only allow those aged 18 years and older to attend the event. In an official statement made today, Ultra Music Festival organizers explained the change: "While we sincerely value the incredible ongoing support from our younger fans, we ultimately believe that Ultra Music Festival is a premium event geared towards adults. This decision has been made to reinforce and promote the safety of all Ultra Music Festival fans and to ensure the overall enjoyment of all future attendees. We are extremely grateful for all the support we have received from our younger fan base to date, and we encourage them to attend the festival once they reach the appropriate age. Until then, our free YouTube stream, 'ULTRA LIVE' is available worldwide for everyone, all ages to enjoy and to share in the Ultra experience." Newly hired Ultra Music Festival Security Director and former Miami Beach Police Chief, Ray Martinez, further expressed his optimism towards the decision: "The first step to having fun is feeling safe," Martinez said, "We have chosen to adopt several new measures during next year's festival to ensure our event is safe and secure. The first step to preserving the unique atmosphere that Ultra is famous for is to be proactive in attracting the right crowd." The next edition of Ultra Music Festival will take place March 27, 28, and 29, 2015 at Bayfront Park in downtown Miami. Pre-Registration for tickets will open on September 15, 2014. Thereafter, information can be found at ultramusicfestival.com"
For more information visit Ultra Music Festival!
And make sure to follow us for interviews of the DJ's and countdown to Ultra where we will bring you full festival coverage!