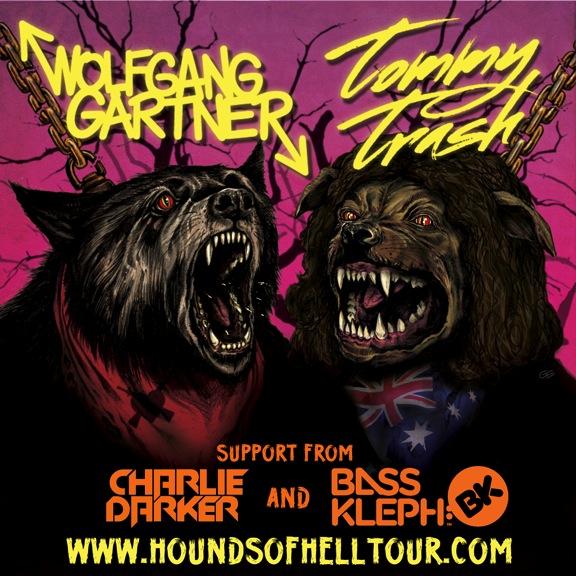 The Hounds Of Hell – Tommy Trash and Wolfgang Gartner – are in full recruit mode in advance of their anticipated tour of North America this fall. Like any fine organization it's about strength in numbers and the pack has just swelled two-fold to include special guests Bass Kleph and Charlie Darker.
The Hounds Of Hell tour launches Friday, September 27 at the Palladium in Los Angeles and winds its way through the USA and Canada before returning to Southern California for one last 4/4 feast at San Diego's Soma Club on November 2nd. Tickets are available for purchase now though their tour website.

Through a special contest – dubbed "Hound2Hound" – they're giving fans the chance to win an afterparty on the tour date of their choice where Tommy Trash and Wolfgang Gartner will play a never heard before "Hound2Hound" (back2back) set. The winner will get 50 guestlist spaces for them and their friends, a meet and greet with Tommy Trash and Wolfgang Gartner and a Hounds Of Hell merchandise pack. Five Runners up will get a meet and greet and a merchandise bundle. Fans will be able to enter the competition via Houndsofhelltour.com, Tommy Trash and Wolfgang Gartner's Facebook pages. The contest runs from September 5th to 24th.
Check back for more daily music reviews and tour information in our Music section!
Please follow us!