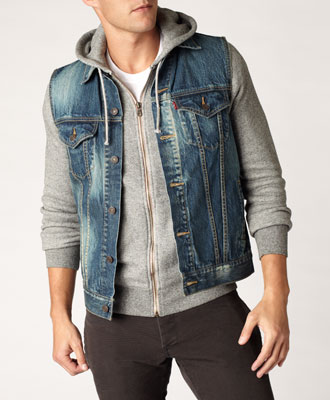 Everyone should own a Levi's Jean Jacket.  They are eternal.  We love to wear our jean jackets with khakis, tweeds, shorts, over suits…even with jeans; a tradition long thrown away.  The more worn the jacket, the better the look so once you buy one, you'll never need to throw it away.  Our favorite amendment to the jean jacket is cutting off the sleeves.  When we were in high school and our jackets began getting a little snug, we cut off the sleeves and made the jacket even more personal.  Now, Levi's have come up with their own version is the amended jacket; The Trucker Vest.
We love any style icon that has a background story and The Trucker Vest, which is just like it sounds, can best be imagined over PBR tees and stained jeans, making their way across America in the bed of semi's spitting dust on the side of the road.  Add an old(or new) trucker hat and a pair of Ray Ban aviators and the look is perfect.
Levi's Trucker Vest: $78 available at us.levi.com
Goorin Brothers Animal Farm Trucker Hat Roo: $24.95 available at dogfunk.com
Ray Ban Aviator Sunglasses: Starting at $145 available at rayban.com
Check back in with us daily for our style posts and reviews in our Style section!
And all of our Throwback Thursday looks coming back into style!
Please Follow Us for more up to the minute style news!