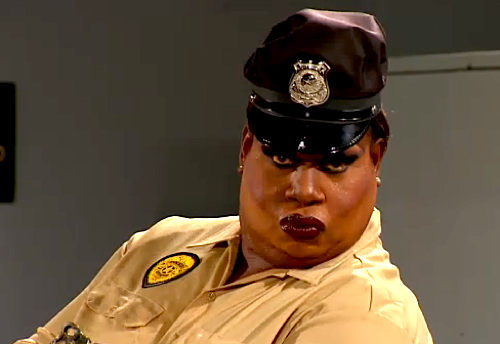 Was the purpose of Monday night's episode to show exactly how untalented Kenya Michaels is besides being able to throw off her wig and dance circles, literally, around Latrice Royale?? If so, the show accomplished its mission.  Actually, we've been huge fans of Kenya since the beginning of the show.  How could you not be a fan? But she's not exactly the type of queen who gets your heart pounding and goosebumps prickling by watching her perform.  No, she's definitely more the type to go shopping with and have on your arm because it can't be denied that she is absolutely gorgeous!  But what the hell was she doing in her Lip Sync For Your Life? Better ballet recitals have been performed at 3rd grade elementary schools.
The true winner of the night, besides saving herself in the bottom two, was Latrice Royale.  Through this entire season we've sat back and watched her continue to hang with the best of the girls.  Even though she's been performing for twenty years, she wasn't exactly our top pick for the NEXT Drag Superstar.  We feel like we've known several Latrice's in our life and it seems like every drag community has at least one.  But maybe we were wrong.  In those final moments when she stood on stage in one place, perfectly lip syncing to Aretha Franklin You Make Me Feel Like a Natural Woman, it could not be denied that Latrice Royale is a force to be reckoned! It was almost embarrassing to watch Kenya dance and lip sync as Latrice performed impeccably, every bit of Aretha incarnate. Maybe, just maybe, we underestimated dear old Latrice…the beauty that she is!
So who will be the next Drag Superstar? While we love Latrice, our eye has always been on Sharon Needles.  Her creativity and originality is overwhelming while her humor and sensitivity is endearing.  Phi Phi O'Hara has proven she is quite a contender herself, winning several challenges.  And it can't be denied that she did an incredible job on the Dads I'd Like to Frock challenge.  Chad Michaels is so undeniably classy and professional, but sometimes seems like she misses the mark.  Its difficult not to love her, especially when she would be such a good example and role model for the drag and gay community.  But maybe she would have been the best Last Drag Superstar being that she seems to be a drag superstar already.  Oh, wait…that was Willam.  (Who, by the way, we miss the hell out of seeing every week! Don't worry, we've gotten our fill by her hilarious YouTube videos. By far the greatest scene this season was Latrice and DiDa's appreciation for Willam's Christian Louboutin's!)
Our bet is still on Sharon Needles…but we might put a few dollars on Latrice as well.  Her story is compelling and her game is…sickening!
Be Yourself.  Be Unafraid.  Be Your Own Unexpected Luxury!
For more information on the RuPaul's Drag Race girls…Read our interview of this season's contestants!