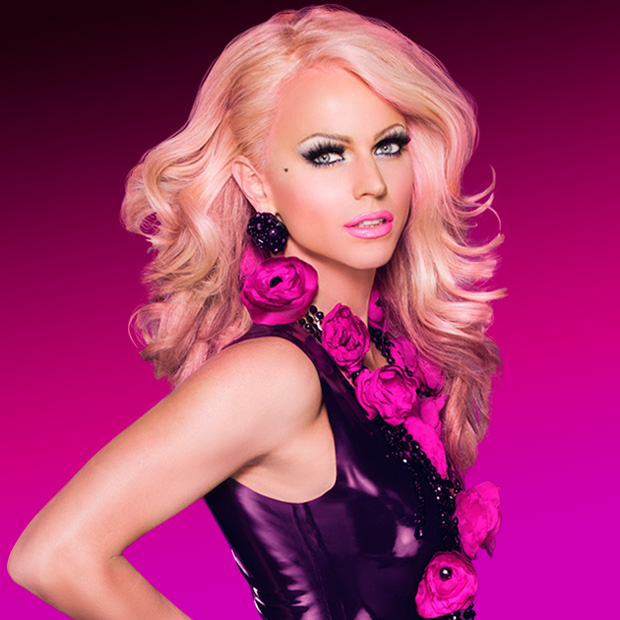 So folks, what did you think of tonight's episode of RuPaul's Drag Race? We're not entirely sure we like that Ru has split the gals up this season, but we're sure it's just the first of many new things to come our way this season.  (Incidentally, we haven't written a review for first week yet, so we'll post that later in the week!)
Here's how it went down…the second batch of 7 girls are: Bianca Del Rio(Hilarious!!!), Trinity K Bonet(Gorgeous…direct), Joslyn Fox(Hmmm…crafty), Magnolia Crawford(cute boy but bittter, bitter queen!), Milk(LOVE!!!!!!!!!!!!!!!!!!!!!!!!!!!!!!!!!!!!!!), Courtney Act(Uhhhhh…wait!) and Darienne Lake(Big and Beautiful!)
Basically, the girls did a photoshoot…blah…where they had to get sexy with the pit crew, including having a pillow fight.  All of the pictures were pretty good, with the exception of Miss Magnolia's, so this was boring! Trinity won but Courtney should have won.
Then they got these boxes of crap signifying events like "hoe down"(ha-ha), etc…and had to make a couture fashion gown.  All were ok, but Bianca's was definitely the best designed, but that's probably because she's a "costume designer". Magnolia got really lippy with the judges and even later admitted to the rest of the girls that she was just there for "exposure" and just wanted to people to notice her when she walked down the street, stating she didn't care if she won or stayed.  Bianca, who's humor will give RuPaul's corny jokes a run for their money, promptly told her she'd help her pack her bags.
Ok, so anyway, she won and Magnolia and Darienne had to lip-sync.  Magnolia did not no ONE WORD of "Knock on Wood" and kinda just horsied around on stage looking ridiculous, so of course Darienne won! Way to go girl.
But let's be honest, the true winner tonight was Courtney Act.  Even Joslyn Fox, that poor, sweet thing, told Courtney meeting her was just as significant as meeting the judges…(Michelle Visage???).  Courtney's response…"Awkward".  God…we love her. We've been such huge Adore Delano and Courtney Act fans for so long that we couldn't wait to watch them together.  We could simply watch Courtney talk for hours! Gor-geous! But we think all of these queens have a pretty good chance in their own right.  Each seems to bring something different to the table which could make for a very interesting season.
Oh…and now that Magnolia is gone, our Hottest Boy Out of Drag Award goes to Milk!!!
Let us know what what you thought of the show in our comments below! And let us know your favorites…and least favorites!
Make sure to check out all of our Drag Queen interviews from RuPaul's Drag Race in our Interview section!
Til next week…Stay pretty!
Peter and Alex
Please follow us!