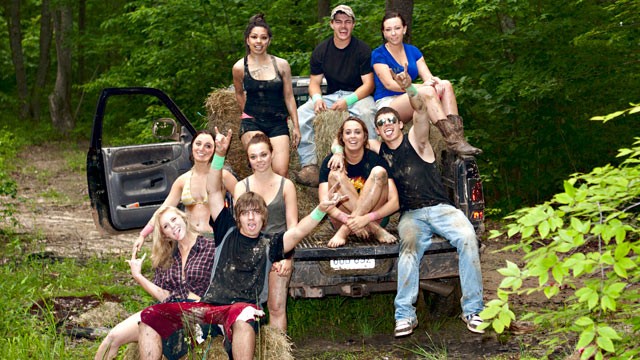 While some are calling it "The Jersey Shore of Appalachia", we've nicknamed it "The Redneck Laguna Beach"! And we love it!!!!
It wasn't that long ago that MTV closed down it's reality series The Hills, the spinoff of it's earlier series Laguna Beach, to confirmations of the show's relationships, arguments and daily debacles being completely fake.  So we're wondering, as MTV embarks upon a new series, Buckwild, or more appropriately a redneck version of Laguna Beach, will we also find out in the end that this show is fake? We hope not.  It doesn't seem like there's much concern as the main cast members flip from houses into dump-truck pools, glide down a water slide made of plastic and soap and attempt to toughen character by jumping off of bridges.
Simply put…WE LOVE THIS SHOW!!!!
Does MTV even have any idea what it's done?  Do these kids have any idea what kind of ride they're strapped in for because it's going to much crazier than muddin' on a Saturday afternoon! All across the country, teenagers are Tweeting about this crazy show, especially about it's main character, good lovin, city-fearing country boy Shain. The interesting thing about this show is that it seems so real and these kids seem so down home country that you start wondering how all of this stardom will affect them.  Most of the cast already has Twitter accounts with over 20,000 followers.  Not tons, but a good foundation for a reality star by it's 3rd episode.  Imagine these kids in a few years once they achieve Lauren Conrad, Heidi Montag and Kristin Cavallari fame.  Guess we'll just have to wait and see.
In the first episode Shain admits he doesn't have internet, Facebook or any of that stuff…will that change?  (All over Twitter people are using #TwitterlessShane to talk about his whereabouts) It's an interesting concept when you think about the effect of reality television on the world.  Maybe not our world…but theirs.  Are we doing them a favor, or should we have left them country real.  Hopefully they can stay that way while gaining a little bit of fame for themselves!
If you're interested in their Twitter accounts, check them out below:
Buckwild -The Shows Official Twitter Account
Shae "The Spicy Southern Bell"
A little prediction…while Shain may seem like the show's star, Tyler might be a hottie and Cara might be a little spicy…Anna will end up being the real star of this show.  In a few years, expect a spinoff called "The Big City"…with Anna as the star!
Buckwild airs on MTV Thursdays
10/9c   Please follow us for show updates, crazy tweets and other shows and pop culture updates!