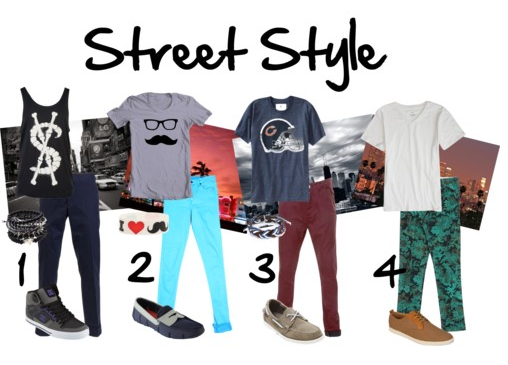 Street style goes beyond the labels and brands. It goes past any social standings and labels.  It goes beyond the racks of our favorite stores.  After all,  there's no greater insult than to be labeled as an "off the rack" fashionista.
Style is the best way to express yourself and to experiment and find your own voice. Don't let the crazy prices of designer wear scare you off and think you can't be part of fashion or have great style.  In the powerful words of Nina Garcia "Fashion is expensive, style is not." Here are some of our favorite ways to display street style in your everyday looks.
1. Dress pants aren't just for dressy occasions anymore.  Pair your fitted slacks with a funky tank, high-tops shoes and killer accessories (don't overdo it – sometimes less is more).  This style is fresh, fun, playful, almost flirty – it tells the world you're here to have fun and you like to experience good things in the most laid back possible way.
2. Bright pants are the best way to display your love for colors and to show you're not afraid to break the common boundaries of what not to wear.  This year we've seen bright colors take over the bodies on runways, racks in stores, and pages of magazines.  Invest on a fun color that suits your style best and pair it with your favorite old tee.  Nothing says style like your own collection of vintage and current pieces.
3. Sports fans even have the ability to play with style.  Jerseys aren't the only way to represent your favorite team.  Vintage tees are perfect for summer games and nights out with your pals.  Forget the jeans this time and grab a pair of color chinos.  This is a good way to polish this sporty look and be comfortable during all of the festivities.
4. Don't be afraid of prints! All over the streets of Europe, stylish, masculine men are wearing loud, print pants with a simple white tee and loafers.  Our stylish brothers from the other side of the world aren't the only ones that can pull off this look.  We can do it too!  Just remember that if you're going to wear these, don't pair them with other prints or colors.  Grab a mute shirt, plain color, and no accessories; the pants are the focal piece.
Before you go out shopping for some of these looks, check your closets first.  We're pretty sure you may have a few of these items already hanging in there.  Maybe not the bright color pants, but you get the idea…
Be Yourself.  Be Fearless.  Be Your Own Unexpected Luxury!
Check out all of our style tips and daily looks in our Style section.
Please Follow Us: