Organizers for Mamby On The Beach are saddened to announce that the 2019 festival has been cancelled due to circumstances beyond their control. These unforeseen issues include significantly higher than average waters of Lake Michigan eliminating the beach portion of the festival's intended site. Additionally, the original footprint was affected by the presence of Great Lakes Piping Plover shorebirds, a federally protected species.
Despite working tirelessly with the Chicago Park District and U.S. Fish and Wildlife Services to find a new location, moving the festival at this late a date, while still providing a superior beach event experience, would be impossible and a disservice to fans and artists alike.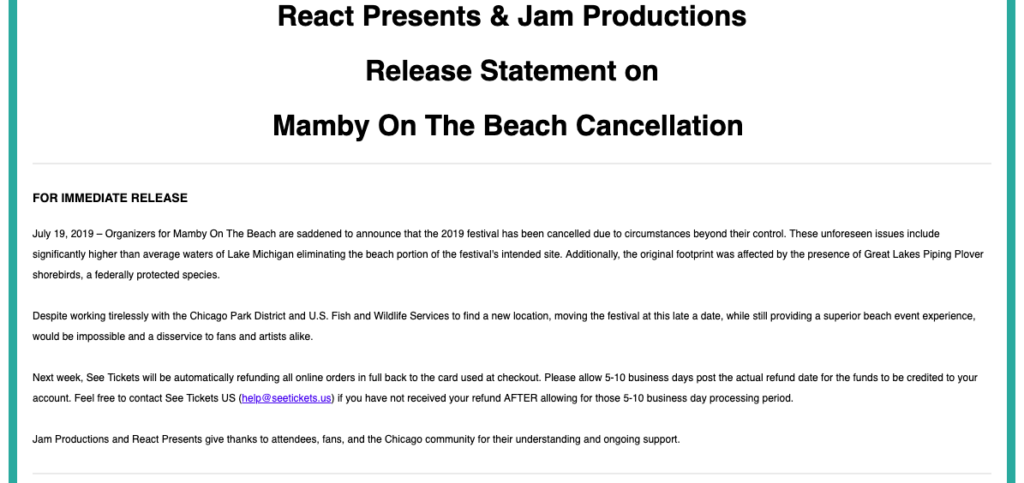 Next week, See Tickets will be automatically refunding all online orders in full back to the card used at checkout. Please allow 5-10 business days post the actual refund date for the funds to be credited to your account. Feel free to contact See Tickets US (help@seetickets.us) if you have not received your refund AFTER allowing for those 5-10 business day processing period.
Jam Productions and React Presents give thanks to attendees, fans, and the Chicago community for their understanding and ongoing support.
Never fear Mamby fans, React Presents & Jam Productions always treat their fans with respect and fairly… As much as we're sad to not celebrate on the beach with everyone, we know their future plans will be greater and amazing!
Click here for more Electronic Dance Music NEWS.